With a Little Help From My Friends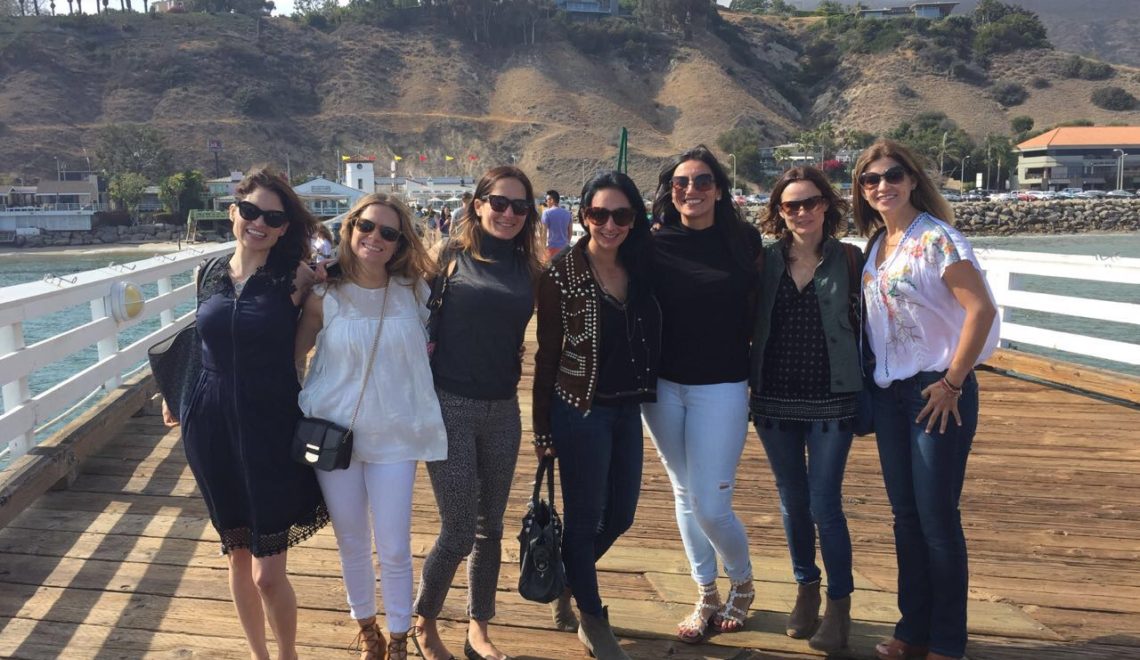 Ten days ago I received the most amazing treat: my lifelong friends came from Mexico to LA to visit me. I couldn't believe my luck. About two months ago, we started talking about organizing a trip for when we all turned 40 next year (yes, with this group here we MUST plan a year in advance), the conversation went on until of them suggested that they all should come visit me, first. This year. Meorial Day weekend. Two thousand sixteen. I couldn't believe it, not figuratively speaking, literally, I didn't believe it. Ours is that type of group who tries to make dinner plans and fail on the last minute. We all have good intentions, and we want to see each other, but something (life) gets in the way, and we end up canceling our plans to meet up. This time was different. As we went on talking about how great it could be, one of them sent a picture of her plane ticket. Wait, what? Is this really happening? Like a ripple effect, the rest of them began buying their tickets. This. Was. Happening.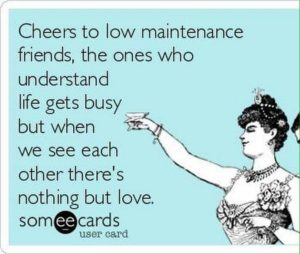 It was a long wait. Almost two months and I couldn't stop talking about it (ask my husband and LA friends). Planning. Thinking where and what we would do, because, did I mention that half of them were coming for 72 hours and the other half for only 48? Nothing! Nothing if I wanted to show them all my favorite places from L.A. Oh, wait. Sleeping accommodations. I'd be hosting six of my friends in my house (two of them couldn't come and were greatly missed), and… I don't live by myself, do I? I have a family! What was I supposed to do with them? Luckily, my husband was very gracious about it and suggested to take
the kids to visit their grandparents. Well, of course, my darling! Feel free to take them for as long as you want. The housing problem was solved, now I only had to plan the perfect itinerary. Not too busy so we could actually be with each other, and at the same time getting the most of what L.A. has to offer (in 48 and 72 hours, respectively).
The first batch arrived on a Thursday night. The next morning, my family was still here, and I couldn't help but feel an immense joy to "share" with them my kids. They haven't seen them in a long time, but they have been part of them. They've watched them grow long distance, through videos, pictures, and anecdotes. My greatest joy was to watch my kids talk and hang out with these women as if they'd seen them the day before because I feel the same way.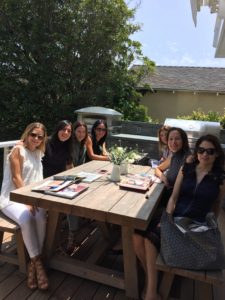 After we had said good-bye to my family, we started our day. We walked down Montana Ave. in Santa Monica where we had lunch in one of my favorite chain restaurants: R+D Kitchen. Since they don't take reservations and it is always crowded I put my name on the waiting list, and we wandered about the street doing some shopping while a table was ready. We enjoyed a delicious lunch and an even more enjoyable table talk. Much to the waiters dismay, we stayed there for over 3 hours! The four of us gave an update on our lives, we cried, we laughed, and then left only because we remembered that I had to feed the meter. I could feel the endorphins traveling through my body. There is no better therapy, I thought to myself. I felt happy.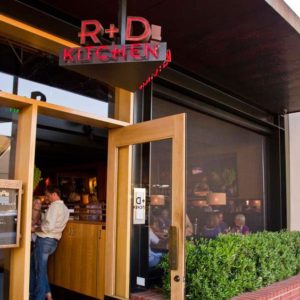 Dinner time came upon us; I had a table for us at my favorite restaurant: Giorgio Baldi. I blame this place because it has prevented me to venture more in the LA dining scene. Almost every date night or important date, my husband and I end up going there (plus, it is 5 minutes away from my house). I love it. We had a fabulous dinner and a few glasses of wine, and we were exhausted, and they were jet lagged. The others were coming from the airport in a few minutes, so we went home to wait for them. The second batch arrived. We were complete.
These girls have been my friends since I was thirteen. I wouldn't know where to begin to retell our story. Our story.  What makes our friendship special is that we have a history together and friend Priscila brought a piece of history itself, a DVD that had several videos we recorded when we were in 8th grade. As I watched it laughing so hard (and secretly thanking God that there was no internet or social media at that time), I was thinking about how much we've been through together. All the moments I have shared with these girls. Like the time that I decided to go by my middle name (Sofia) and didn't stick, and everyone in our class made fun of me, or when I'd signed my name with a little flower and a peace sign (what was all that about?). Or the time when we decided to enter a drama contest and when we arrived at the auditorium all the other plays had costume and stage design and all that we had was a chair. When we'd sneaked out to smoke thinking no one would notice although we smelled like cigarettes from a 456-mile distance. The stories about our first kiss. The first wedding. Our first loss: when we lost one of us in a car accident. Laughter, tears, regrets, losses, weddings, break-ups, career shifts, boyfriends, trips, bad haircuts, illnesses, grief, terrible outfit choices, dreams, pregnancies, miscarriages, babies, failures, victories… All that can happen in 25 years of friendship. And all that is not told yet.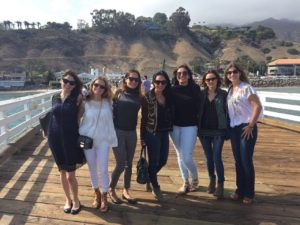 The next day I took them for lunch to Malibu Farm Café, a cute little counter service restaurant on the Malibu Pier. A simple, casual, yet delicious food kind of place. Again, our table talk lasted hours and hours.
That night we had dinner at A.O.C, another favorite of mine. We had fantastic cocktails and a delicious family style dinner that we very much enjoyed. After dinner,  we were planning to go to a night-club to grab another drink but… "well, it's getting late, we're so tired, we don't have to, or do we?"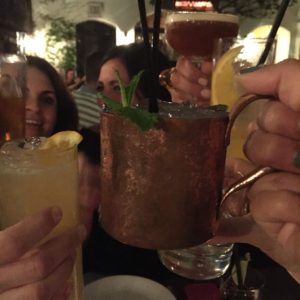 The next day we ventured into the crowds of trendy Abbot Kinney in Venice to have brunch. Since it was Memorial Weekend's Sunday, we were a party of seven, and, well, it's Abbot Kinney we couldn't get any reservation. So what we did is that we put our names down on three different restaurants and gave my number so they could contact me whenever our table was ready. "It will be an hour wait." No problem! We walked down the street, did a little shopping, got a coffee, and then, our table was ready at Gjelina. Another favorite. My friends were raving about the delicious food; I can't blame them.
The countdown began. The second batch was leaving that evening. We came home and poured ourselves some rosé; we lounged in the terrace where they gave me the most heartfelt thank you note. I was in tears, not only because of what the note said but because I miss them so much. After they left, my three friends from the first batch and I stayed up talking and trying to hold on to the last hours of this incredible staycation, but sadly, everything that begins, has an end, and this was no exception. We said our goodbyes and I can't still get over it, I miss them!  When was the last time that you saw your lifelong friends? If it was a long time ago, call them! Plan something and get your endorphin levels to sky.
♥

,
Marcela