Up In The Air: Ten Tips For Traveling With Kids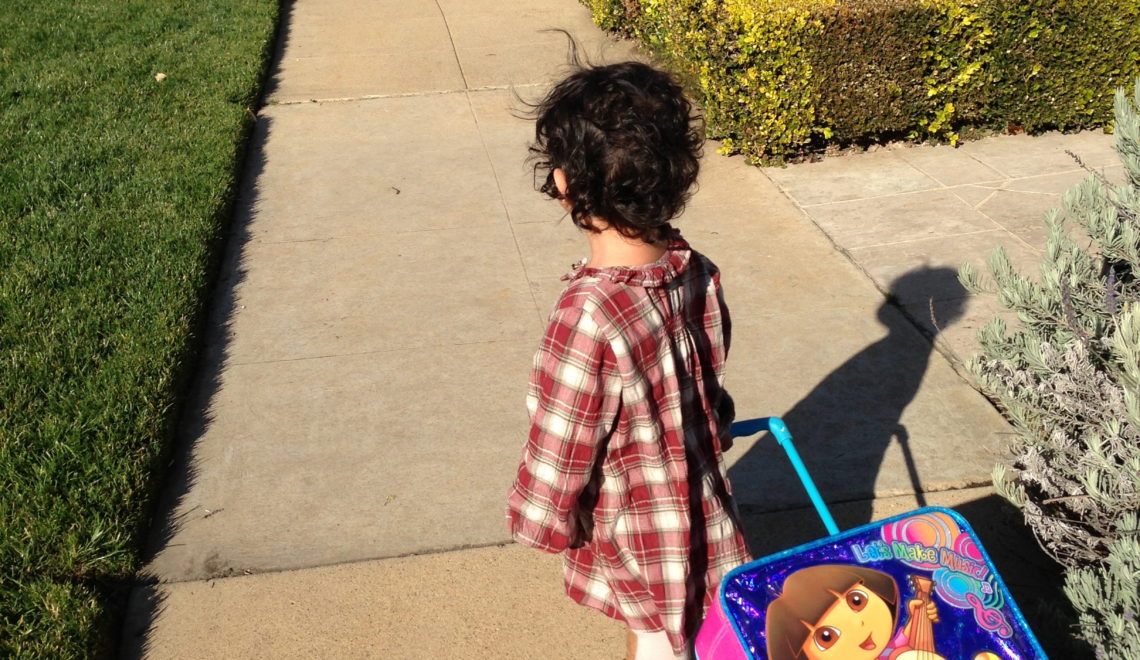 Remember those days where your only concern about an upcoming trip was restaurant reservations and how many shoes you were able to pack? You got to the airport with your carry-on, a book, your music, and if this was a just a few years ago, your favorite shows and movies to watch during the flight. Maybe you'd grab a drink before your flight, or coffee. You take a seat at the boarding gate, and you spot a mom trying to get her toddler to stop running while she breastfeeds a 4-month-old baby, and an older boy pulling her sweater hoping to get her attention. When he doesn't get her attention, he opts to tease his little brother. Maybe mom will look at me know. "Just take the Cheerios, Jack!". But Jack tries to grab them and all of a sudden there are Cheerios everywhere. The three kids are crying. The mom doesn't look happy. Dad comes with a bag with magazines that he thinks he's going to read (ha!) and two coffees. He tries to help, but, is there anything he can do, now? They share a desperate look. You open your book, take a sip of your latte, feel sorry for them, hope they're sitting at least ten rows behind you, and; finally, you judge them: "when I have kids I will never…". Yeah, yeah. We'll see about that.
Fast forward. You have children now. You're planning a trip. When you get to the airport, you remember how many times you've judged that mother that couldn't keep her baby quiet. The times you turned around and gave her the evil eyes as if this would help to shut up the baby. The times where you would snort or let out a big sigh if a kid was kicking the back of your seat. Or that toddler leaning against your seat to say hi. Aww, how cute! Twenty times later… you just stare at him with a straight face. You're potentially one of them now. How many hours is the flight, again?
When I had my first child, he was a dream baby. Totally textbook baby. I fed him every 4 hours, he took two naps religiously, and as most first-borns, he is a rule follower. Whenever we took him on a trip, he'd sit on my lap or, when he was old enough in his seat, buckle his seatbelt, and be as mellow as one can be. He'd play with a little bag of toys that I'd packed. It was ten years ago, so no iPad, no movies. I wasn't going to be one of those moms!! Phew! Then, three years later, Amanda was born. When she was a baby, she would sleep through the whole flight and as a toddler, she wasn't as mellow as Patricio was, but still, she wasn't that kid on the plane. She needed to be reminded to use her "inside voice," and not to kick the front seat, but once told she'd be happy to watch a movie on the portable DVD player (remember those?). Ting! Ting! Ting! Not that mom, yet (note the word "yet"). I gave compassionate looks to moms struggling with "difficult" children on planes and airports, but I was silently triumphant.
Then it came Roberta.My precious hurricane. Totally a third child, a wildflower. Don't get me wrong; she was good baby taking in consideration that she had to put up with her siblings' schedule, routines, birthday parties, pick-ups, drop-offs, etcetera. Plus, we found out that we were relocating to Los Angeles when she was three months old. So here we were, the first time we went school and house hunting, her first flight to LAX. I was not worried because in my experience, babies that age sleep through the whole flight and if they wake up it's just to be fed, and they'd sleep again. No, no need to panic lady sitting next to me, this baby won't bug you, not for a minute. Or so I thought… The minute the plane took off, Roberta started crying. No, not crying. Howling. Screaming. What is happening? What's wrong? I couldn't calm her down. Diego couldn't either. I got the evil looks, the turning heads, the sighs, the grunts, and snorts. Every judgment and reaction on the book for three hours and forty-five minutes. I was mortified. She was that kid on the plane. Of course, literally, as we were landing, she fell asleep.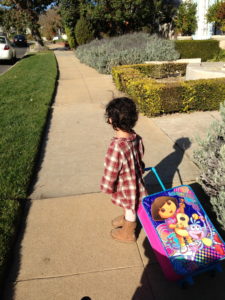 If you're a parent, you have noticed, for sure, that the things you judge the most when you don't have children are the ones that struggle with when you have. "My child will never use a pacifier at that age"; next thing you know your daughter is using her pacifier until she's five. Well, I think I got so cocky about my children not being that kid on the plane, that karma gave me one. Roberta couldn't stay still. She would lean into the front passenger seat. She would not use her "inside voice" (that's code for screaming). She would open and close the service table twenty times in one minute. Oh, and the best one, she was scared of the bathroom on the plane (I don't blame her) so changing her diaper was like trying to tame a crocodile. Thank goodness, Roberta was born in the same year of the iPad, but it wasn't until a few years later, that she could seat in peace to watch a movie or play games. Today, she is a well-behaved traveler (for the most part). But before getting there, we developed some strategies that I am going to share with you for when you travel with kids. Everyone is entitled to a good vacation, and these tips will help you to enjoy your flight and your trip better.
But before that, let me tell you a story. One time, I was traveling solo with the three kids (7, 4, and 18 months). We were flying first class so Patricio and Amanda would be going in one row, and Roberta and I would share a row with probably a businessman or woman with no patience to bear with that baby on the plane. Someone who bought a first class ticket to enjoy an uneventful and peaceful flight. As the passengers were boarding, I saw a suited man in his 50's approaching our seat. Oh no. Please no. He smiled at us, sat down and without me saying anything he told me: "You don't need to worry, I have three of my own, and I know how challenging a flight can be. Relax and please don't hesitate to ask for my help". Wait, what? Where are you from? Heaven? And so I did, I relaxed, and my flight wasn't as challenging. Thank you, compassionate stranger, for teaching me to be sympathetic to moms and kids that struggle in planes.
TEN TIPS FOR TRAVELING WITH KIDS
1. R E L A X. It is true that kids pick up on your stress, and then it becomes the never-ending story because they start to stress out consequently they act out, so you stress out even more, and so on.
2. If you have a baby under 18 months, bring a sling or a baby carrier. You won't regret it. Both of your hands will be free, that way you can easily carry or pull your suitcase, hold your older child's hand, take him or her to the restroom, go to the restroom yourself. You get the idea.
3. Before the flight, talk to your children about what you expect from them. It really works. Even for babies. Trust me. Tell them how you expect them to behave. How you will be sharing a small space with many people and everybody needs to be respectful and mindful, including them. Set ground rules, it will pay off.
4. To entertain toddlers, pack a little bag with snacks, small toys (if they're new even better), and trinkets with different sizes and textures (a unused sponge, a comb, a small toothbrush, cotton balls) so your child can take out without your help. Taking the toys in and out is an activity itself.
5. Ask for a cup of ice. This tip I learned from a flight attendant when Roberta was quite restless. This simple thing kept her entertained for long, long time.
6. People who know me know that I am not fond of video games and screens, but when it comes to planes I am all for it! Download games and movies in your or their iPads. Do it mindfully, though, check out Common Sense Media for the perfect age-appropriate apps and films for your children and let their brains fry!
7. If it's a long flight and you are concerned that, in fact, their brains are going to fry, take some travel old-school board games. UNO is always a good idea. Also, Eebo carries a good variety of travel toys such as matching game, dominos, etc. By the way, my kids always enjoy to play these games when we arrive at our destination; I always carry a deck of UNO, a Matching Game, and Fruit Dominoes, and it's a great way to connect with them and also to mellow them down before bed.
8. Bring coloring books or activity books (crossword puzzles, word search). Books! Of course, books. Books to be read to your child or books that they can read by themselves. By now you know your bag must be better stocked than Mary- Freakin-Poppins.
9. If you have a child that struggles with using his/her "inside voice" try whispering yourself, for some reason, it helps (it works almost every time, ask me how I know this).
10. As always, put your oxygen mask first. If you're cold, hungry, didn't have your coffee (or tea, of course),  you are wearing something uncomfortable, chances are, you will have less patience, and remember tip #1. So, pack a scarf, wear comfortable (but cute) shoes and clothing, be sure to have snacks for yourself, too. And if for some reason, everything fails, if your child can't stop crying, if your toddler is impossible that day; repeat to yourself: "this, too, shall pass." If people give you the evil eyes don't pay attention to them, you're doing the best you can.
I would love to know if you have a golden nugget when it comes to traveling with children or if you have a story, please share it with me. Remember, we are all in this together!
♥

,
Marcela
P.S. If you like what you read, please share it!