Tablescape I: Breakfast With The Girls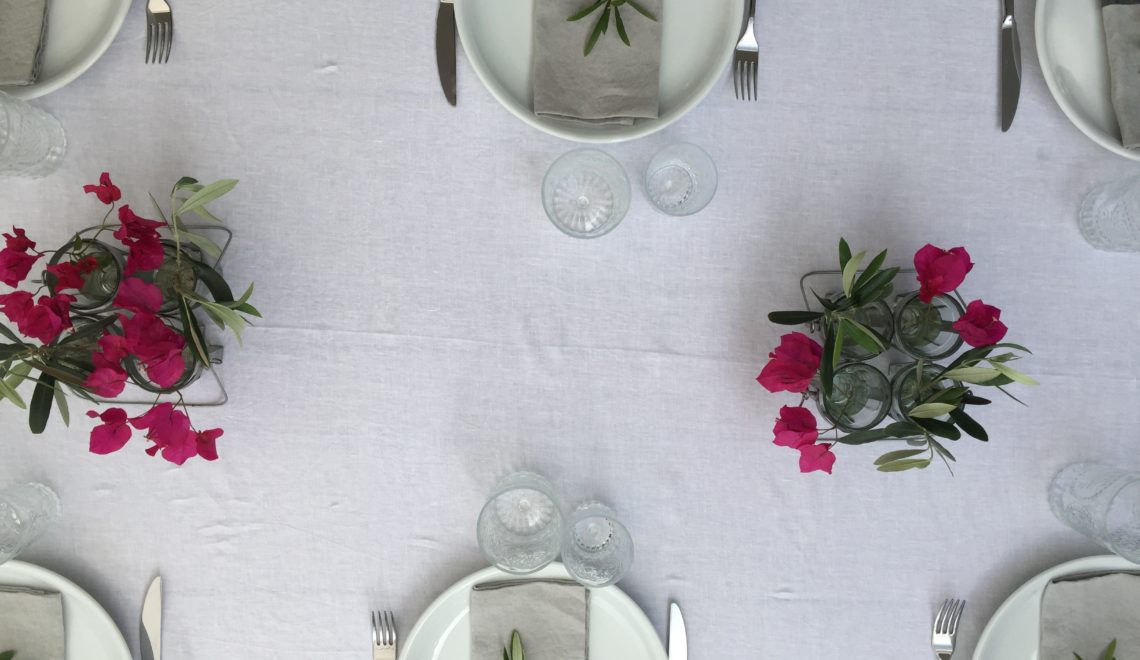 Yesterday, I hosted a breakfast for a few friends to say goodbye to my friend Marion who is moving back to Mexico City. Normally, I am an "I want to do it all" kind of host. Potlucks don't work for me (control freak alert!) but this time I had no choice: 1) the friend for whom I hosted the breakfast wanted it to be that way 2) thank goodness because I've had a crazy schedule lately, and the worst part is that I am not keeping track of it (!!). Exhibit A, I forgot to cancel a 9:30 am appointment the morning of, and my friends were scheduled to come at that same time. What did I do? First, I thanked God that my guests were Mexican, because as my Persian friend says there is such thing as PST (Persian Standard Time), there is a MST (Mexican Standard Time) which means arriving 30 minutes later than starting time; and second, I pushed the date half an hour to 10 am and planned to arrive fifteen minutes late. Yes. To my house. Yes. To the event I was hosting. Don't judge me.
If you haven't noticed already on my Instagram feed, I love flowers and I enjoy making amateur flower arrangements to put all over my house. Flowers are important for me. I believe they bring joy and there's no better way to welcome people to your home than a house full of flowers. So, having said that, the night before, I began to set the table and suddenly I realized that… I FORGOT TO BUY FLOWERS (dramatic music background).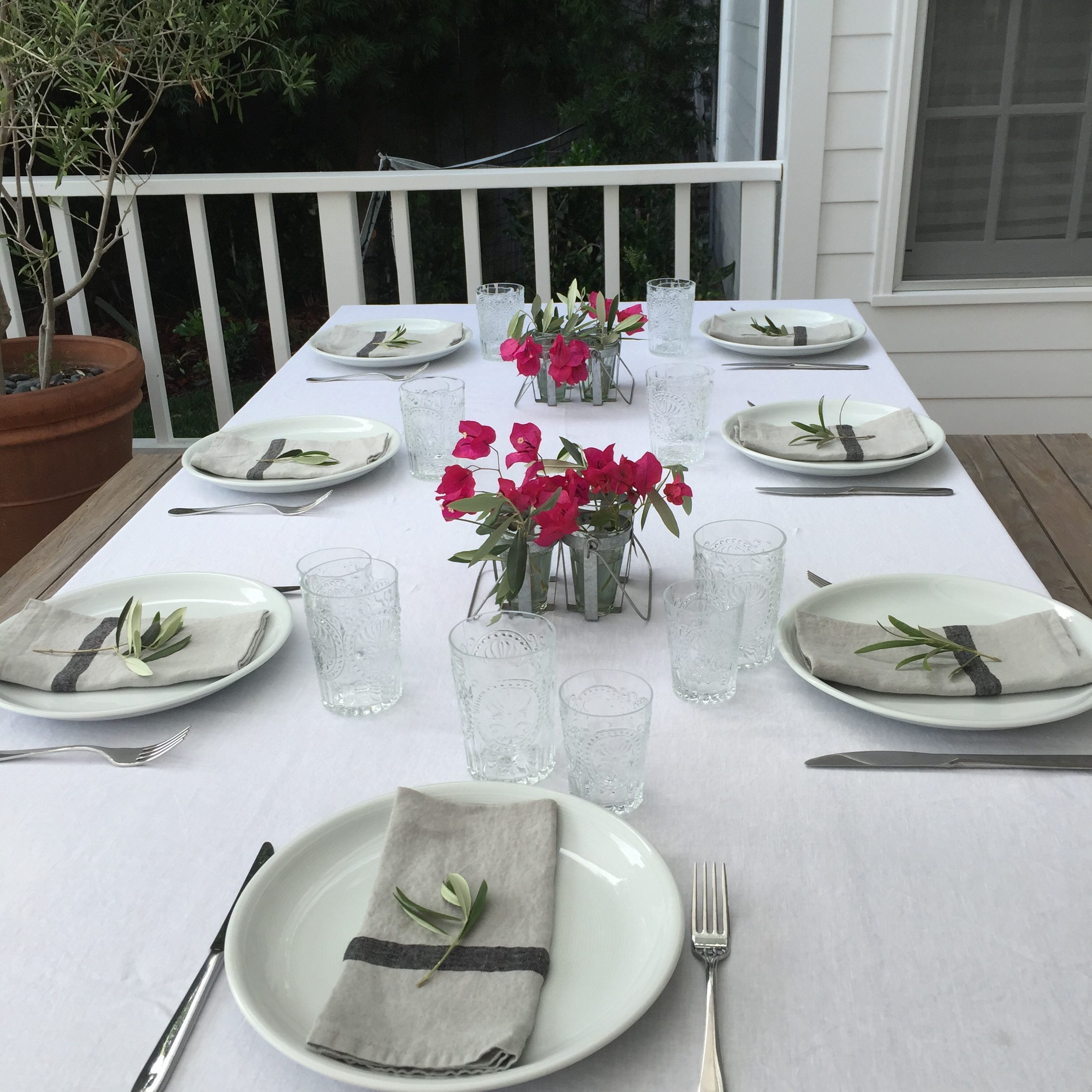 What did I do? After I panicked, I remembered the beautiful bugambilia from our next-door neighbor that's hanging on our fence (sorry, Mr. Hussein) and our olive trees. I grabbed my scissors and head outside hoping nobody would see this crazy lady cutting sprigs and flowers in her pjs at 10pm.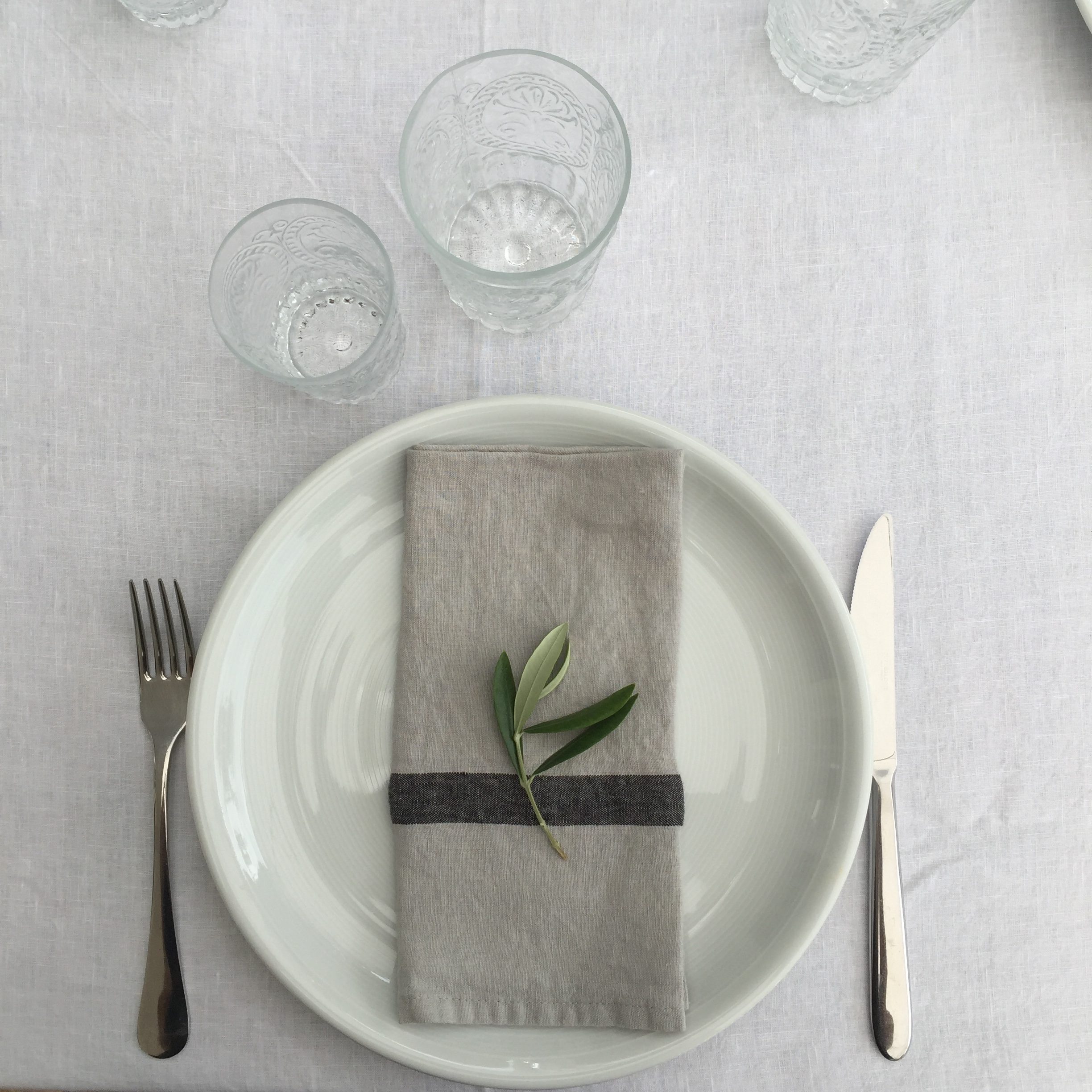 For the buffet table (unfortunately, I don't have a good picture of it) I used mini bud vases and placed a little sprig of Bugambilia on each one. And for the table where we would eat, I used two sets of four glasses in a metal basket that I bought at Burro in Venice and combined Bugambillia and olive springs. I also cut a little olive leaf for each plate to give a final touch.
The Menu
As I told you before, this was a potluck, but I said I'd make the main dish. My friend Marion is vegan, gluten-free, and recently, not by choice, nut free. What on earth do I feed this poor girl? Fruit, for sure, but what else?! Plus, the other girls do not have a restricted diet, and I didn't want to cook something that tasted like cardboard. Mexican food to the rescue! Chilaquiles and refried black beans. Chilaquiles are made of tortilla chips and tomatillo salsa, topped with shredded queso fresco, sour cream, and some people toss fresh onion, too. This is a typical Mexican breakfast. If you want to make them, just buy a bag of good quality unsalted tortilla chips, put them in a casserole and cover them with tomatillo sauce, you can find the recipe for the salsa in my Green Enchiladas post. It is essential to serve them almost immediately because otherwise, the tortilla chips become too smushed. This dish has proven to cure severe hangovers, just saying. The black beans recipe is coming soon, stay tuned.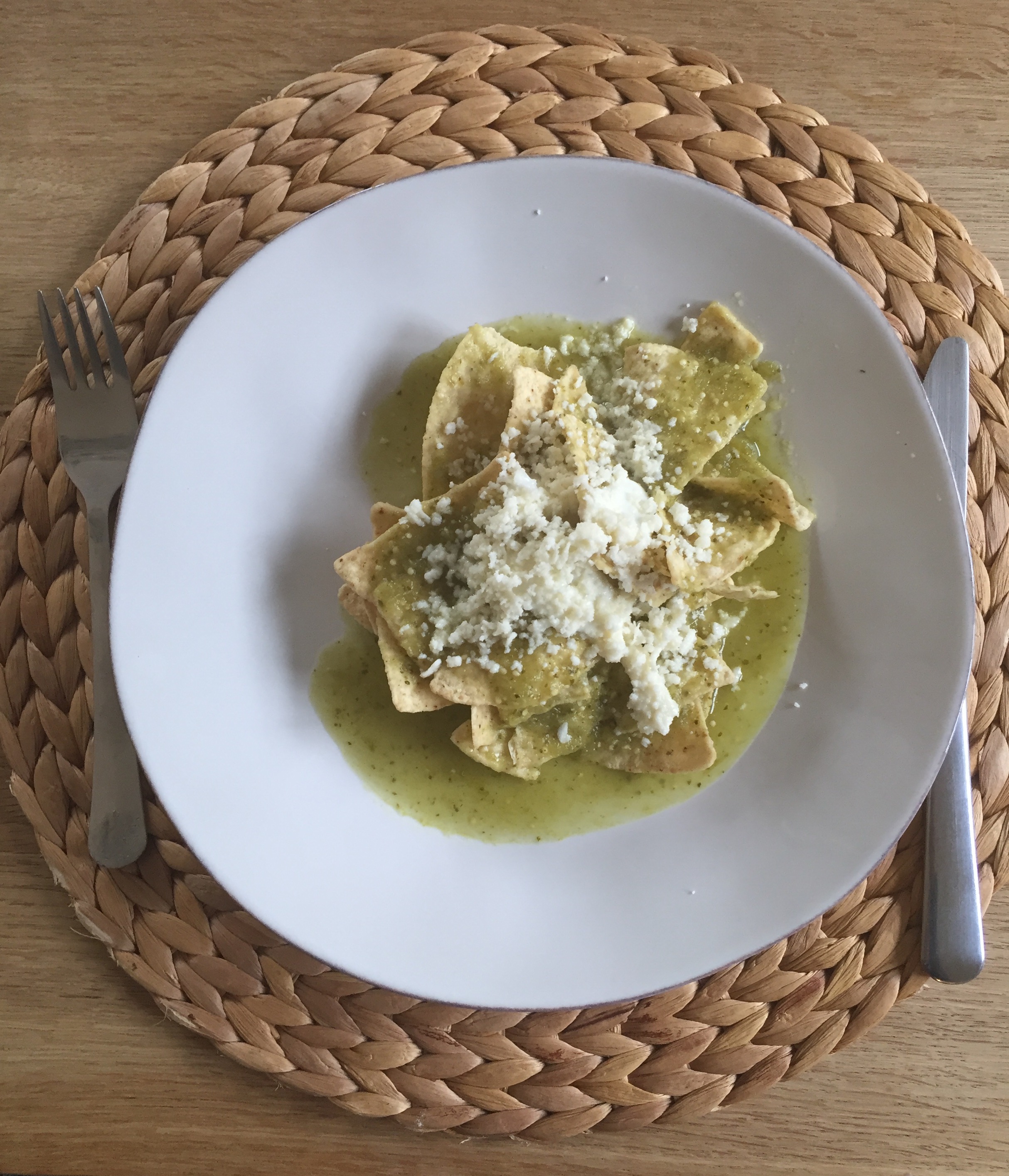 Another little detail that I always do when I host breakfast or brunches is to set a beverage station. I put my coffee machine with capsules, the milk frother, almond milk, and regular milk, Blue Bottle iced coffee (huge hit, a tip that I learned from my friend Kara), spa water, sparkling water, OJ, and if it's brunch I add a bottle of champagne or prosecco, a bottle of rosé, and, of course, a selection of teas!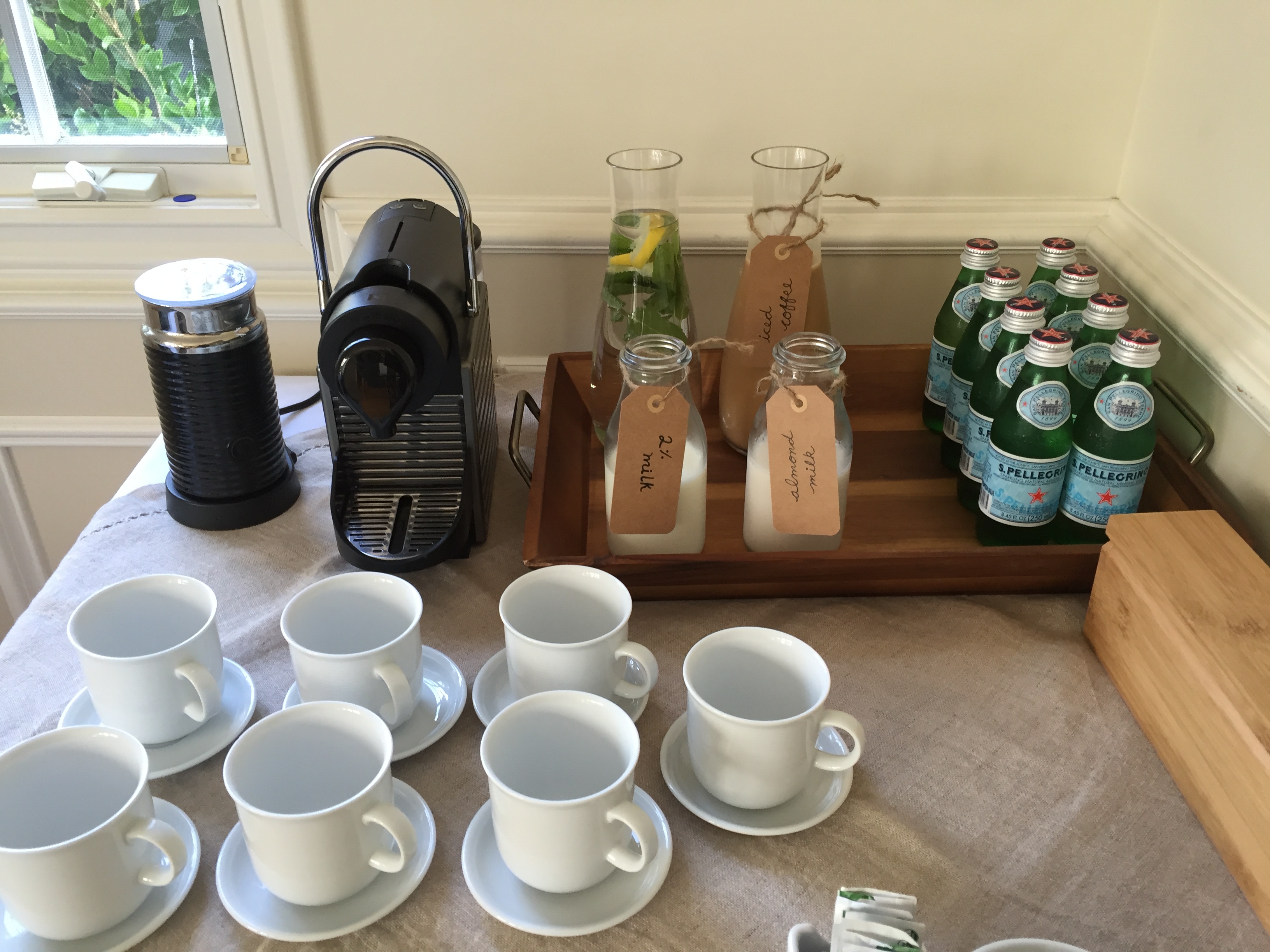 Oh! Funny story: as I was setting up the coffee machine I found out that I didn't have any capsules left (!!) Again, after I panicked and searched online where to order them overnight (nowhere, if you were wondering) I  decided to keep asking for help and good thing I did, because one of the guests brought a handful of them. Note to self: it's not a bad thing to ask for help.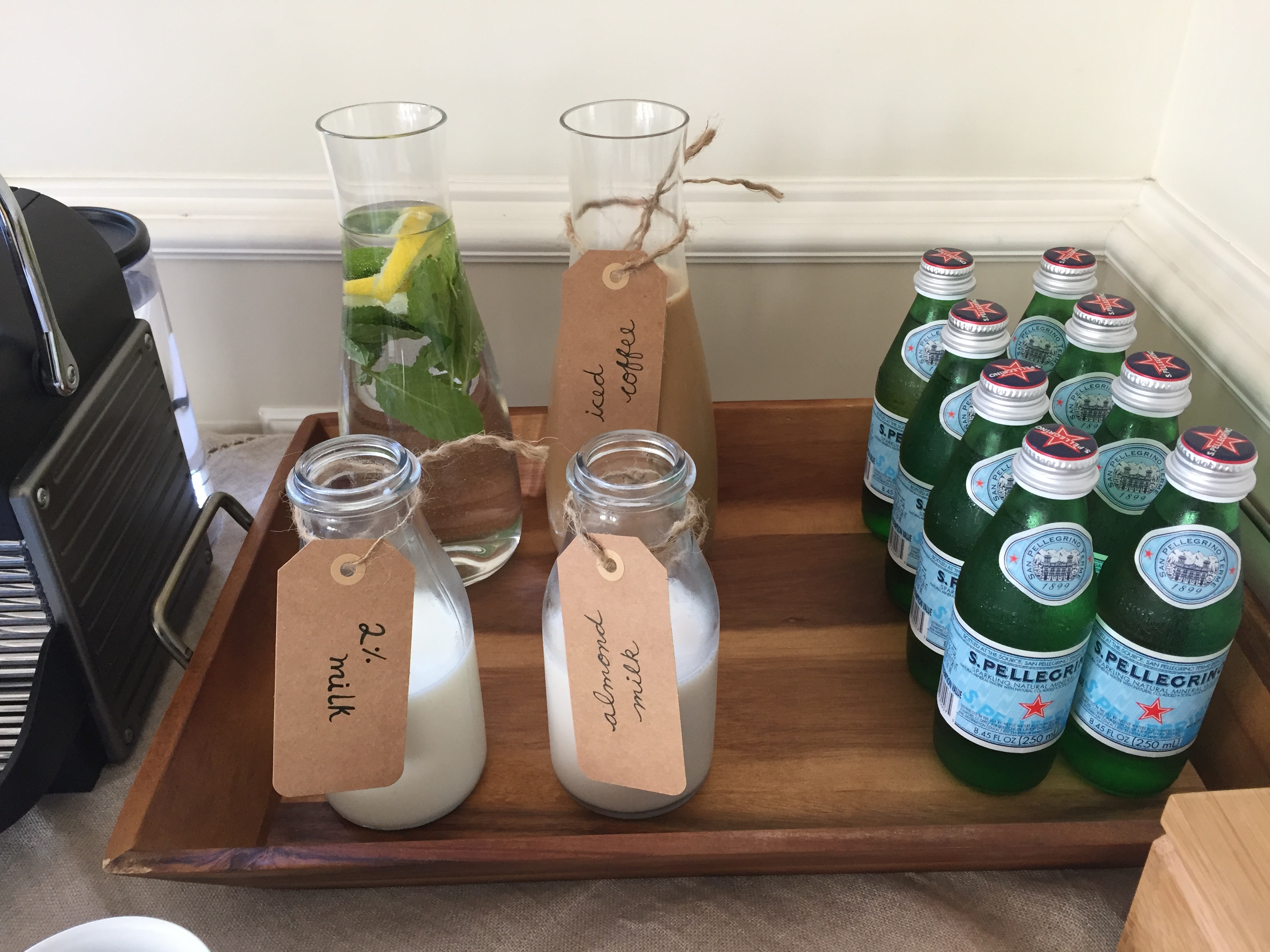 So after all, it was a very good thing that Marion didn't want me to overdo it this time because I couldn't have done it anyway and, truth to be told, I felt more relaxed. Still, I confirmed that it is my cup of tea to host, to cook, to style tablescapes and make things beautiful! It brings me joy to do it, and it also brings me joy to make my guests happy and comfortable; and it's ok to have some help, too.  How about you? Do you have a golden nugget when it comes to hosting? Mine is to be a relaxed host, nothing better than to prep ahead of time and the day of the event enjoy as if you were one more guest. If you are relaxed, your guests will be too and everyone will have a great time.
♥

,
Marcela