Pastel Azteca aka Vegetarian Enchilada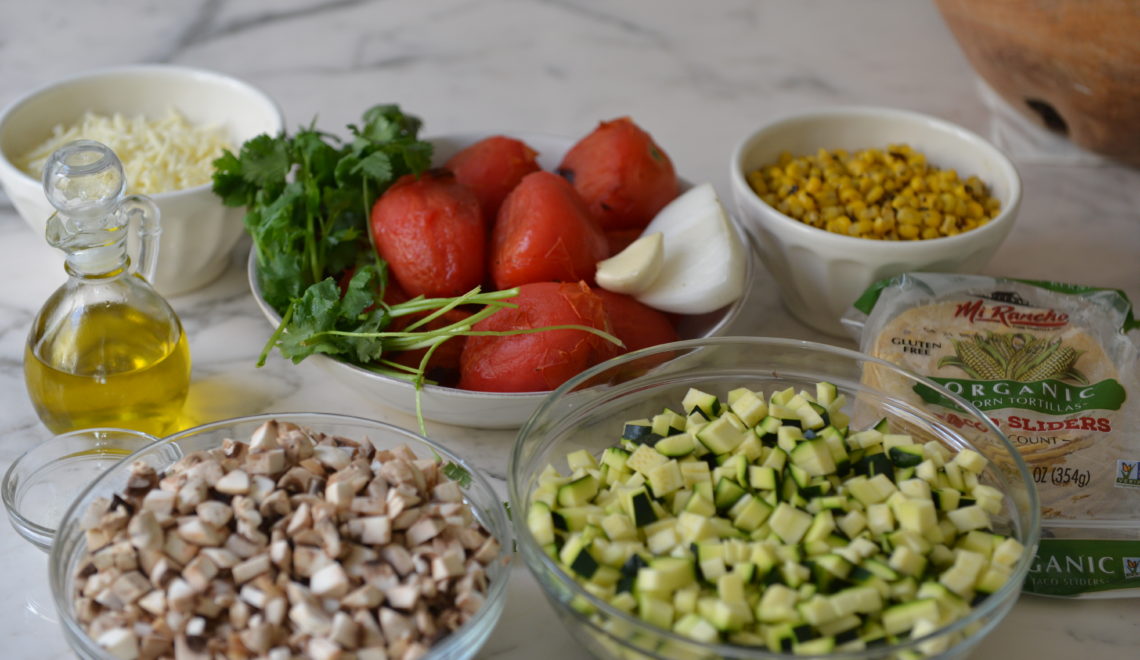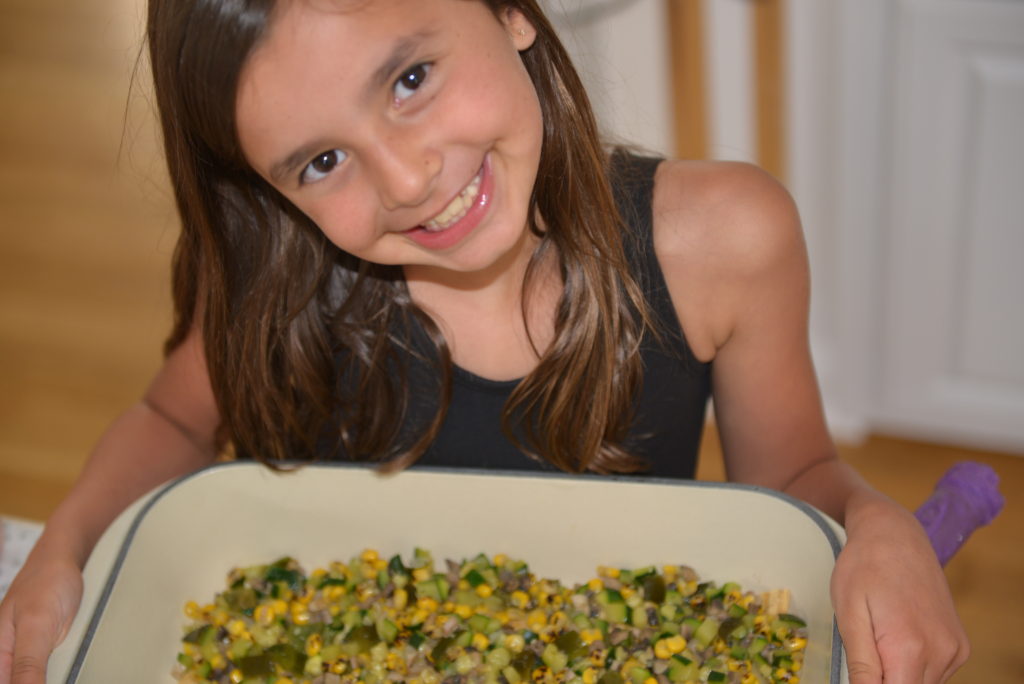 Here's a funny story about this dish. I think it was my second year living in LA when I hosted a baby shower for my friend Begoña and I made a Mexican breakfast. Her guests were mostly Americans so I  wrote little signs next to each platter so they knew what they were about to eat. For this casserole, I wrote: "Pastel Azteca", which is the original name of this dish. Nobody even touched it! When I told one of the Mexican girls she suggested that I change the little sign and write "Vegetarian Enchilada", instead. It wasn't until then that the casserole was a huge hit! Everyone loved it, and if you make it, you'll see why. My favorite thing about making it today? My little helper ♥.
What you need:
8-10 fire roasted Roma tomatoes (put them in a skillet over medium-high heat turning them every other minute, peel the skin after roasting them)
1/4 of an onion
1 garlic clove
one bunch of cilantro
olive oil
1/2 tsp of salt (or more to taste)
1  1/2 cup of diced mushrooms
1  1/2 cup of diced zucchini squash
1  1/2 cup of corn
1/2 cup chopped onion
2 chiles poblanos (fire roasted, deveined, and diced) – optional
Mozzarella cheese (shredded)
Corn tortillas
How to make it:
Preheat the oven to 350ºF
To make the sauce combine the tomatoes, onion, and garlic in the blender and puree at high speed until smooth. In a skillet warm the olive oil over medium heat and pour in the tomato mix. Add salt and cilantro leaves (not chopped, add it with stems and all). When it starts to boil, reduce to low heat and cover 8-10 minutes. Once the sauce is fully cooked, let it cool, remove the cilantro, and transfer to a bowl.
 In the same skillet, warm one tablespoon of olive oil over medium heat, add the onions until soft and yellow. Stir in the zucchini, then the corn, then the poblano chiles, and finally the mushrooms and sauté for a few minutes. Do not over cook. Add salt and pepper to taste. Remove from heat.
In a baking dish place the corn tortillas the same way you would do if they were lasagna noodles. Then cover them with the veggies, then put some of the sauce on top and sprinkle a little mozzarella cheese. Put another layer of tortillas on top of these, followed by the veggies, followed by the sauce, followed by the cheese. For the last layer, you want to have the tortillas,  just a little bit of the veggies and a lot of sauce and cheese so it can melt. (see pictures below)
Cover with aluminum foil and bake for 25 minutes. Uncover and bake for 10 more minutes so the cheese becomes golden brown.
Enjoy!
♥
Marcela