It's the Most Wonderful Time of the Year!
December 6, 2016
by mycupoftea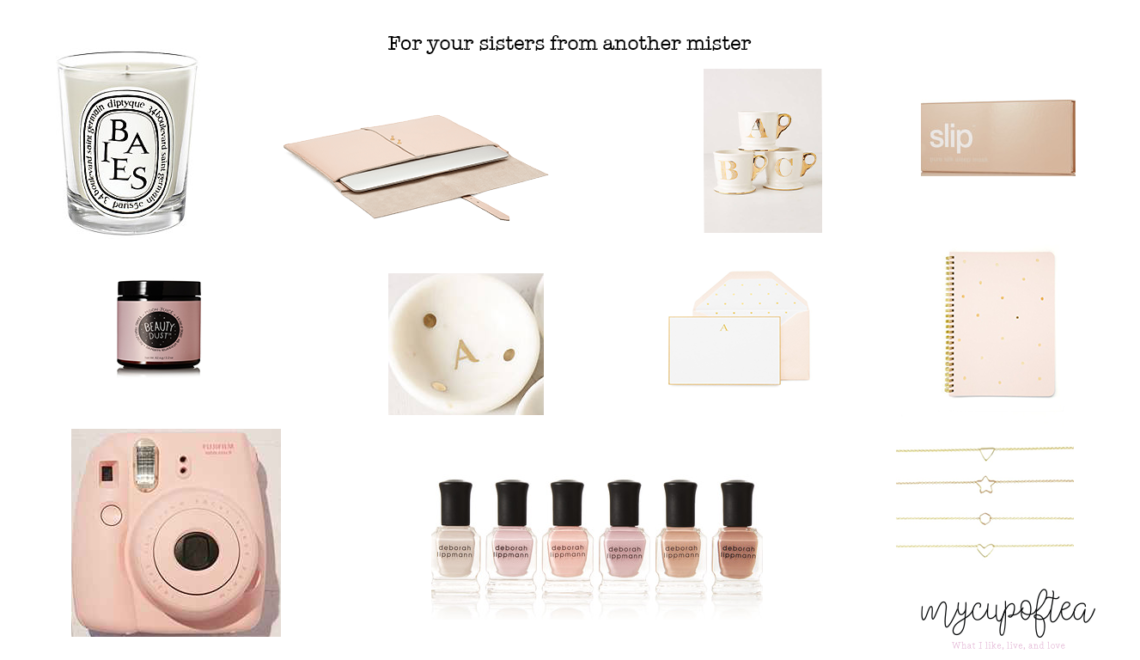 Hey!
Why am I feeling behind posting my gift guide on December 6th? Because suddenly 2016 is ending and the Holiday parties and celebrations are upon us. That is why.
I chose that title for the blog not just because it is a Christmas Carol that has been stucked in my head for days, but also because I do think it's the most wonderful time of the year! Why? Because I look back at the time when I was little and can't help but smile when I remember Christmas dinners at my grandparents house: the smell, her crooked old tree and its ornaments, my cousins and I playing and running around, sleeping late, and waking up the next morning to a tree with Santa's presents. Now I'm in charge of building those memories for my children and I am enjoying it so much!
I've prepared for you some simple but helpful (and always chic!) gift guides depending on who you're buying for, if you're buying on a budget or you want to splurge! I have something for everybody. I hope you enjoy them. Psst! You can buy some of these cuties at my Amazon shop.
# 1: girlfriends
Gifts for your other halves. I'm not talking about your better halves, I'm talking about your friends. Your sisters. Whether you're buying little tokens for your whole group or you're buying for just one, I got your back. You can make bundles of little things or buy just one. Everything on this list ranges between 10 – 125 dollars.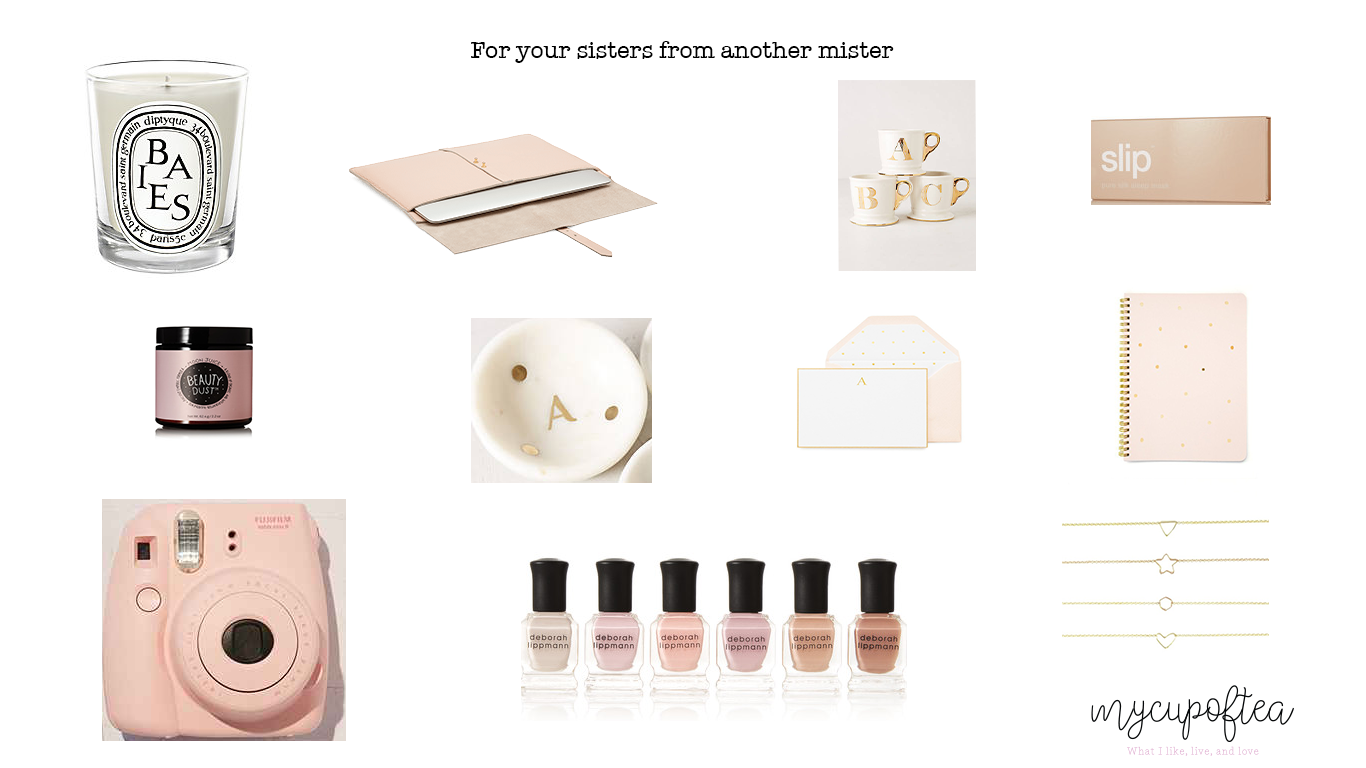 Dyptique BAIES candle: My favorite scent. You can never, ever go wrong with this one.
Leather Laptop Sleeve: I love Cuyana, they have such good quality leather goods and cashmere. A monogrammed pink leather laptop case? You got me at pink… but also at monogrammed.
Golden Monogram Mug: Cheap and chic. Pair it with a gift card from her favorite coffee shop. This make great gifts for teachers or co-workers, too.
SLIP eye mask: Beauty sleep at its best! No wrinkles, please! This silk eye mask not only will make you sleep in complete darkness, but it will prevent wrinkles caused by pillows, there is also a pillow cover.
Moon Juice Beauty Dust: I haven't tried it yet, but if I am dying to.
Trinket dish: Have you noticed yet that I love monogrammed stuff? A little token that will be used everyday plus it will dress any nightstand.
Personalized stationary: this is one of those things you may think you're never going to use but then you'll find yourself replacing  immediately when you run out of them. You can pair them with a cute pen.
Cute notebook: Again, from Sugar Paper. A little notebook always come in handy for the New Year to make lists, resolutions, or journaling.
Fuji Instax mini 8: who says these things are just for kids and teens? You. Know. You. Want. One.
Deborah Lippmann Nail Polish set: don't you love this nude set? Winter calls for neutrals and blushed fingernails!
Wendy Faye bracelets and necklaces: these pieces from this amazing local jewlerer are super cute and well priced. I have the heart-shaped necklace and bracelet and get tons of compliments.
# 2: DIY bundles for the hostess
How about when you get invited to a Holiday party and you don't want to show up with just the typical bottle of wine. Don't run away because it says DIY because you put the bundle together, but you don't actually make things you buy 'em and you still score a "Martha Stewart".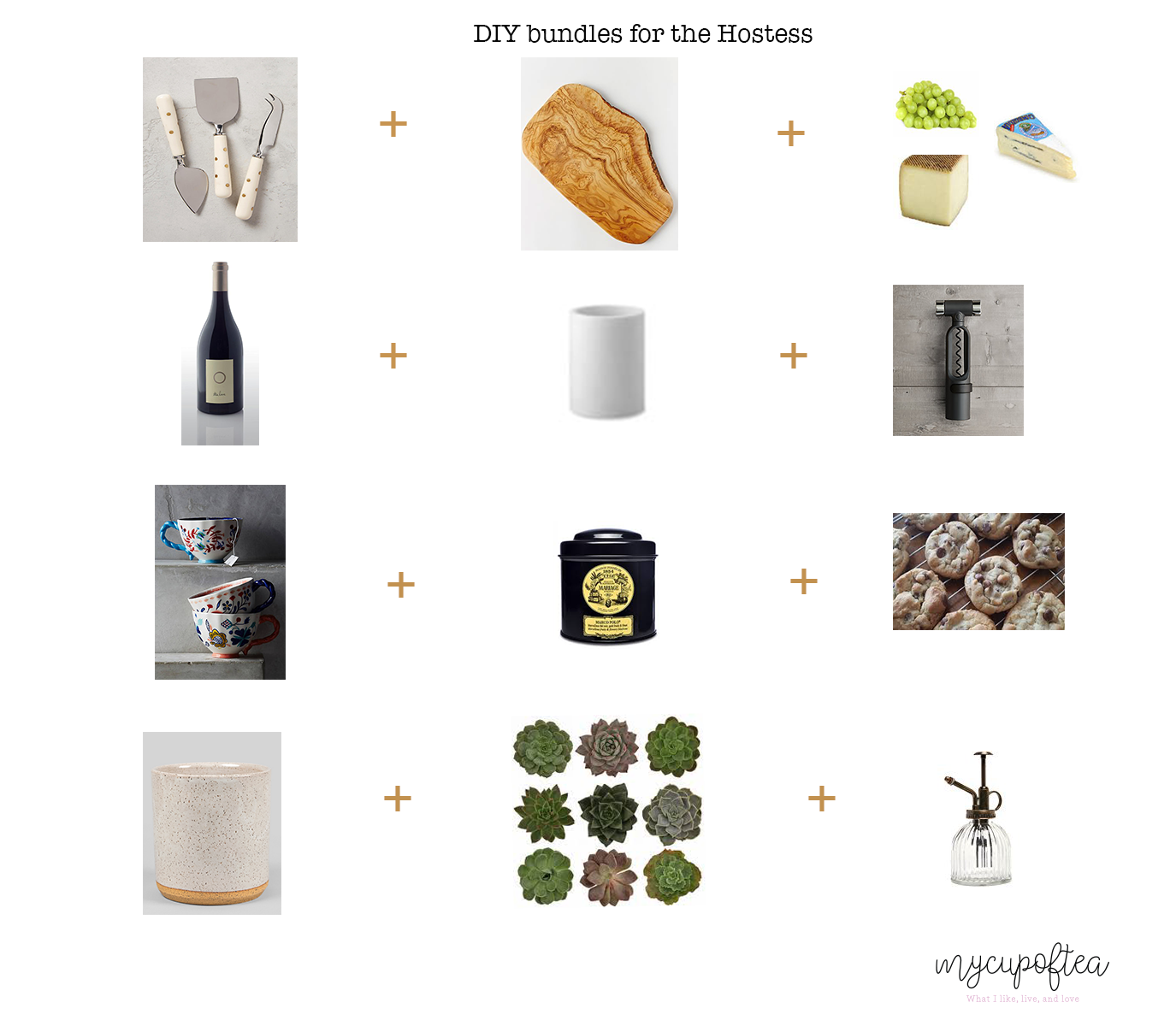 Bundle #1: Cheese utensils + Cheese board + Cheeses
Bundle #2: Promise wine + Marble Wine chiller + Unwined
Bundle #3: Tea mugs + Marriage Freres Marco Polo (and my favorite) tea + Cookies (or chocolate covered almonds, or salted caramel)
Bundle#4: Planter + succulents + vintage spray bottle
#3 (real) DIY to give to everyone
Go full-on Martha Stewart with these two ideas that are actually really easy. My favorite granola recipe is from Pamela Salzman, you can get the recipe on her blog by clicking here and you can buy the Mason jars here.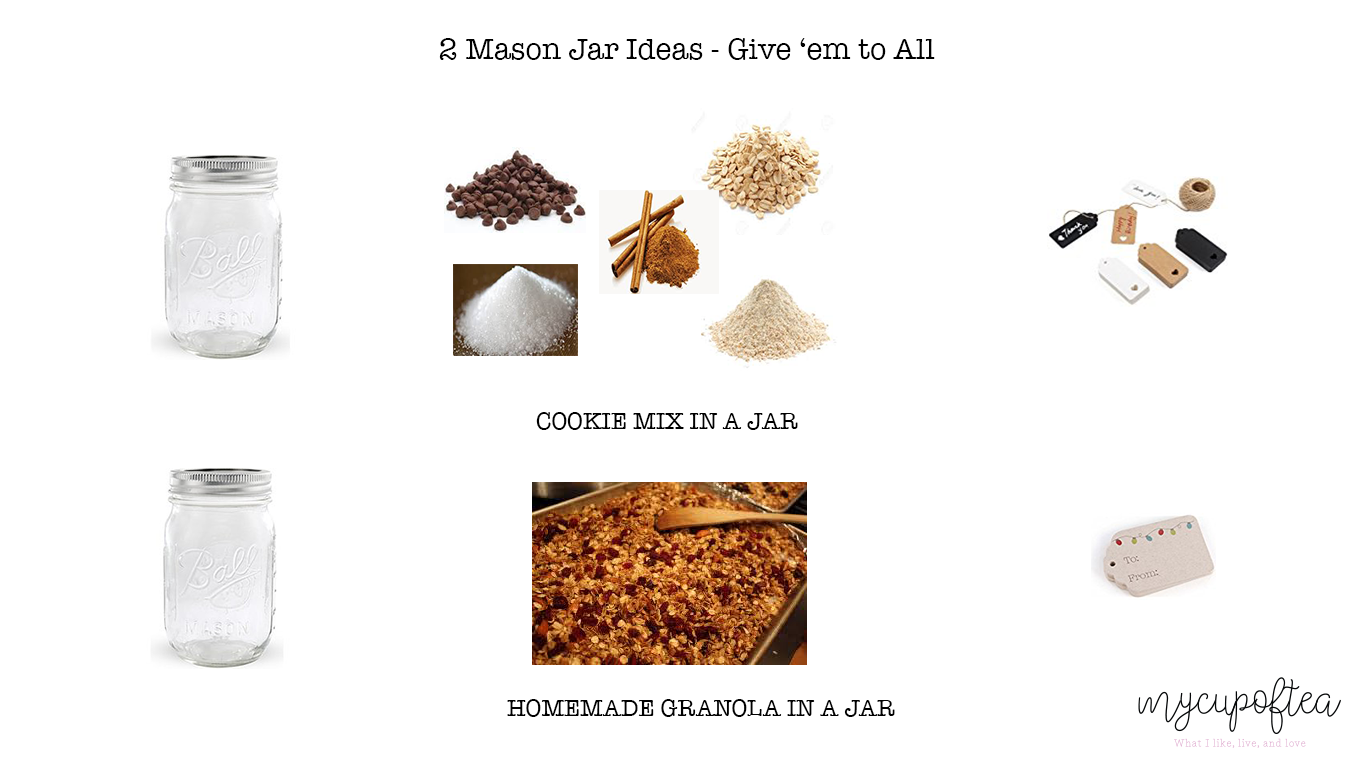 #4: For your better-half, brother, best friend or special friend (or for yourself)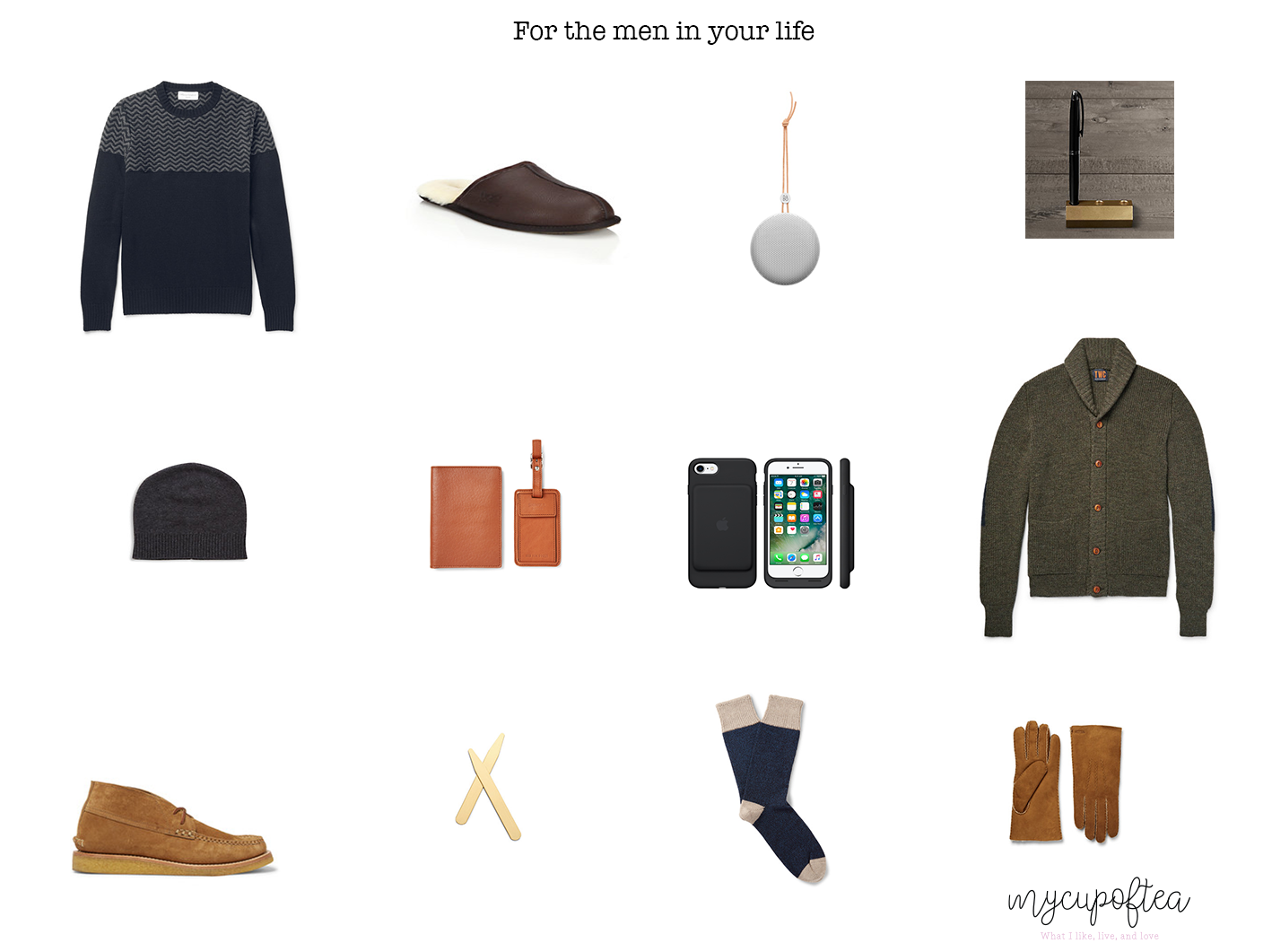 Jacquard-Knit Merino Wool And Cashmere-Blend Sweater, Officine Generale: You can never go wrong with a warm and cozy sweater
UGG Slipppers: (so you can borrow them every so often)
B&O PLAY A1 Portable Wireless Bluetooth Speaker: 
Brass pen holder (get a nice pen, too): or something for his desk.
Vince cashmere beanie:  (yes, he can pull it off)
Leather Passport Cover and Luggage Tag: for him to always travel in style!
iPhone case with battery: dreams come true. They do, exhibit "A"
Grandpa sweater: Imagine this grandpa-style sweater worn with a pair of cool jeans and next item…
Yuketen suede dessert boots: ↑
Brass Collar Strays: A small but elegant token
Socks: one pair, two pairs, three pairs of fun and always useful socks
Never cold shearling gloves: How chic (and warm) are these? A pair of gloves always come in handy for après ski or if you don't live in LA.
#5: For the most deserving, hard working, loving, kind, attentive, and humble person: you! (aka your wife, significant other, partner)
From H&M and Target, to Philosophy di Lorenzo Di Serafini and Saint Laurent, this list has everything that makes my materialistic heart pound (everyone has one, don't kid yourself).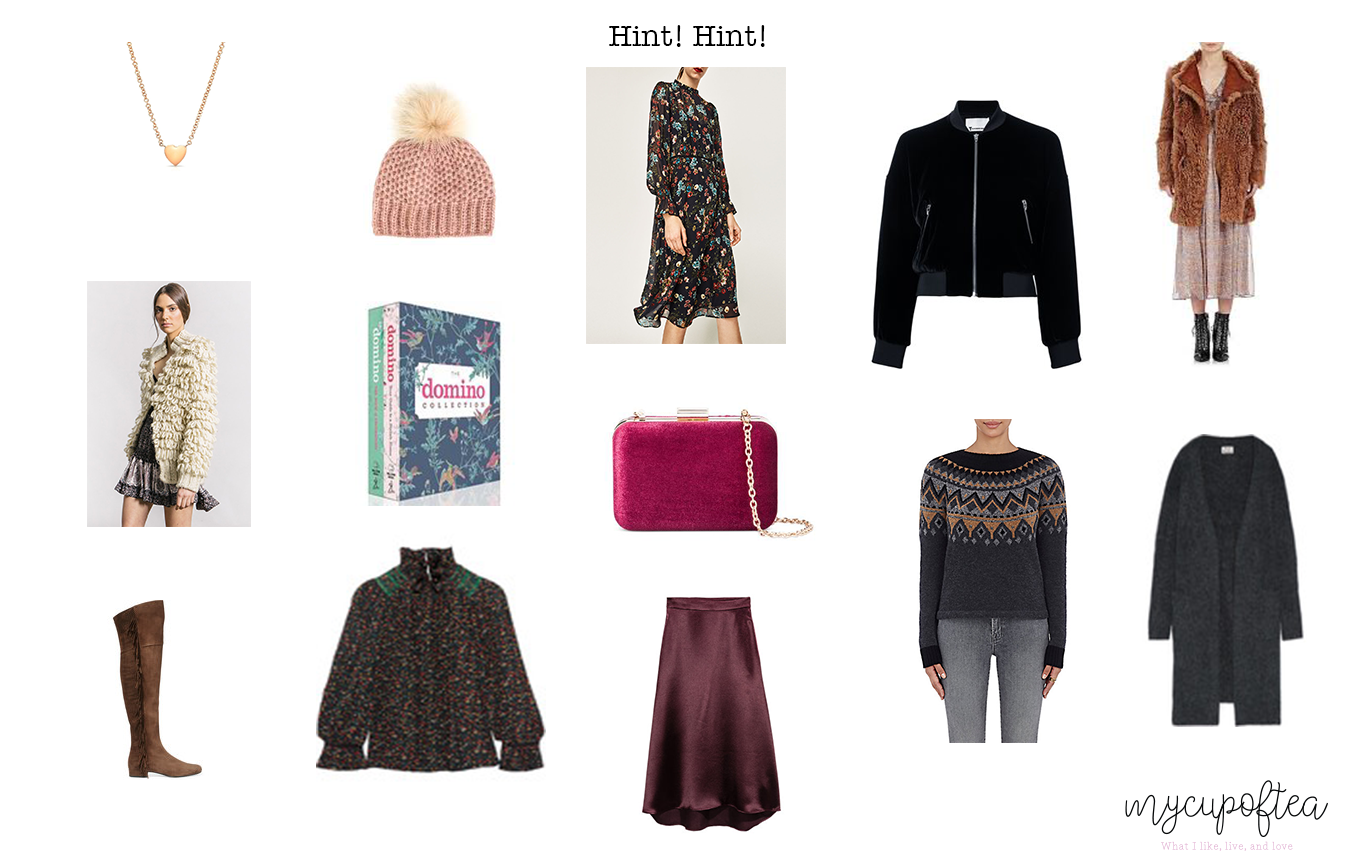 Rose gold heart shaped necklace, Paulina Jewlery: This beautiful handmade necklace is my favorite piece right now. It has brought me luck and eveytime I look at it, I smile.
Pom-Pom Beanie: I am dying for one of these, but I just need L.A. to be a little colder than 70°F
Floral dress, Zara: I love, love, love floral dresses. Not only because you can easily transition them to every season, but because they're comfortable and feminine.
Velvet Bomber Jacket: when two of the top trends of this season blend together.
Reversible Shearling Coat, Philosophy di Lorenzo di Serafini: Every time I'm browsing clothes and I see the dress of my dreams, I look down to see the brand and, of course, it's Philosophy di Lorenzo Serafini. I love their stuff but it is definitely an investment!
Chunky cardigan, MISA Los Angeles: In lieu of the previous splurge I think I'm going to gift this to myself
Domino Decorating Book Sets: I am dying to buy them, in fact, as soon as I finish writing I will go to my Amazon store and order it.
Velvet hard case clutch, Who What Wear for Target: You read right TARGET, imagine dressing up this beauty, no one could believe you paid 25 dollars for it
Ski sweater, Barneys: this sweater SCREAMS Christmas. I'd love to wear it with jeans and cozy boots while drinking hot cocoa by the fireplace. Anyone?
Saint Laurent fringed over-the-knee boots: Ok, picture next item with jeans and these boots… DREAMY!
Floral blouse, Vanessa Bruno: Same thing as the floral dresses, so feminine and wearable.
Plum satin skirt, H&M: only 35 dollars for this skirt that will make a statement at every holiday party!
Happy shopping!
♥

,
Marcela