2020 Holiday Gift Guide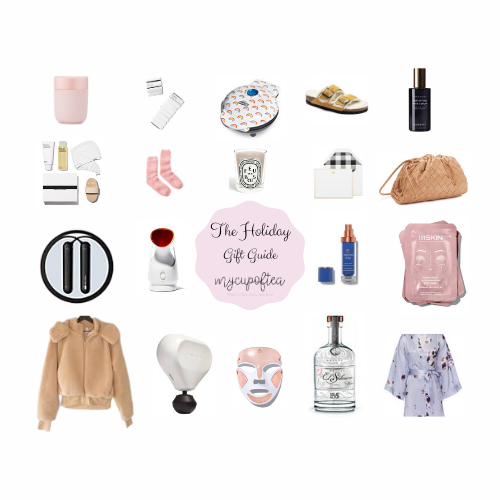 Whew! I'm definitely counting down the days until this year ends. Believe me, I've been trying to focus on the positive side of things, but man, this year has been __ (fill in the blank – challenging? disastrous?overwhelming?). Imagine describing 2020 as a pitch for a screenplay or a book. Would it get picked? I don't think so…
But as always, let's try to focus on important things like family, good friends, and health. The rest will find its place (hopefully soon).

Anyway, here's My Cup of Tea Annual Holiday Gift Guide. This year, I divided it into eight sections: Little Tokens Under $50, Under $100 Bundles, For The Beauty Obsessed, Kids and Tweens, You Can't Go Wrong for Men and Women, and a Buy Local section for LA peeps.
I curated this gift guide with much love and gratitude for you. Please share it with everyone that you might think will enjoy it. It could also serve you as a hint, hint!
---
LITTLE TOKENS UNDER $50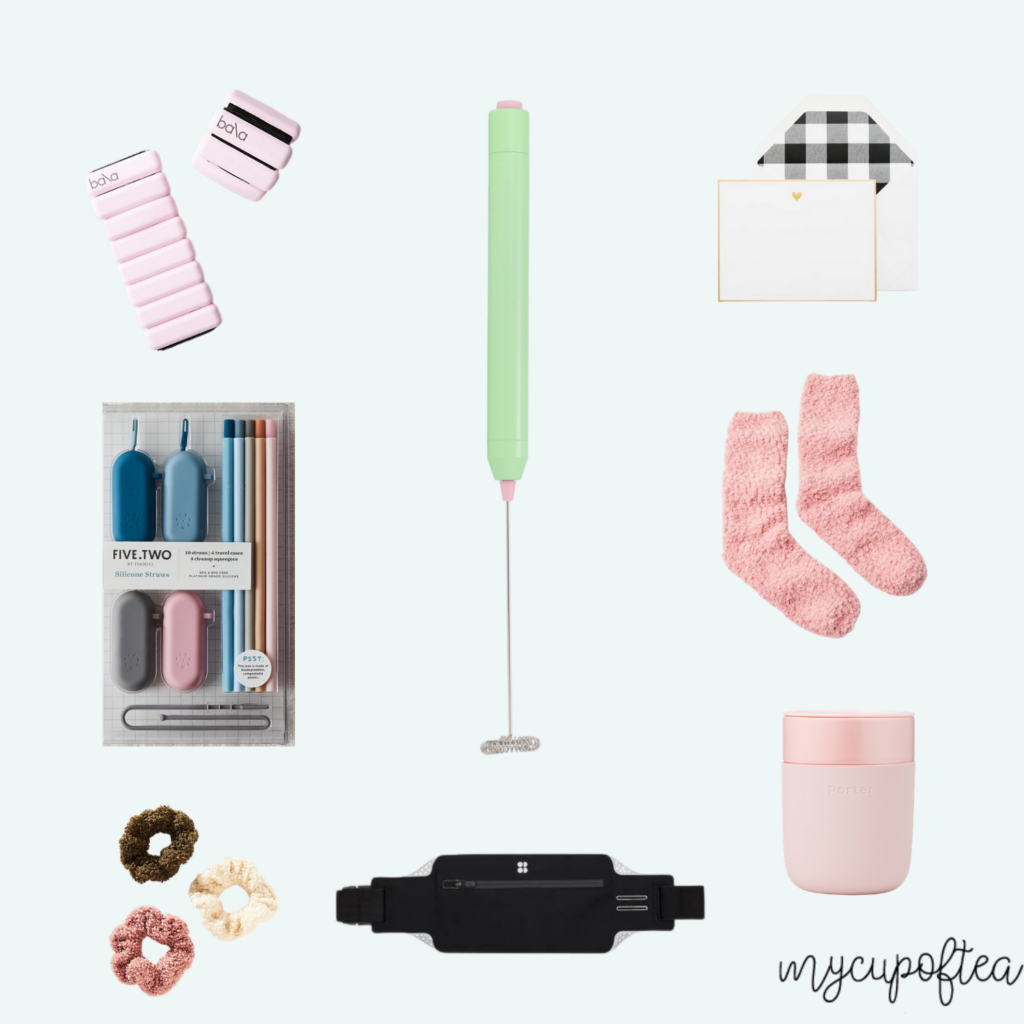 These stocking stuffers or little tokens could be added to enhance any other gift or there are cute enough to give them on their own to friends, teachers, babysitters, teens, or anyone who loves pretty things.
(they are often sold out. If they are at the link above, try here)
They're a great addition to your workout. Also, great for traveling (remember traveling?)
A great gift for your eco-conscious friend or to turn someone into one. Check out this reusable utensils kit, too.
Because you can never have enough scrunchies. One of the best nineties' comeback.
It's pretty self-explanatory why I chose this one. If you want to complement it, think a pretty mug or some matcha sticks.
My friend Sheila gave me a similar one, and I love to take it on hikes or beach walks to put in my phone and my car keys.
Who doesn't love a cute stationery set? Sugar Paper has the best!
My favorite item on the entire gift guide, I kid you not!
I love this ceramic travel mug because it doesn't leave that aluminum aftertaste in your mouth. It's cute and small. You can pair it with this set of reusable cutlery to reduce waste #cutoutcutlery as my friends from Habits of Waste would say.
---
THE UNDER $100 BUNDLES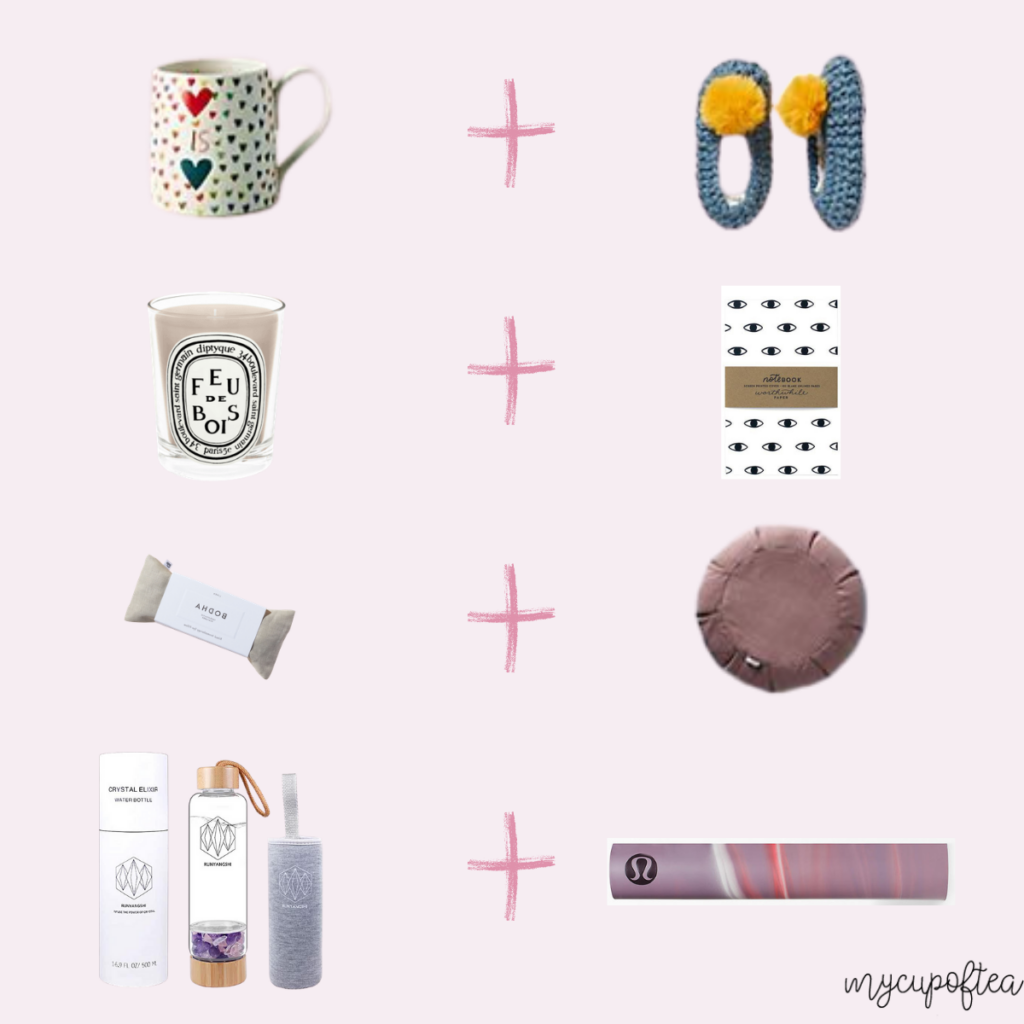 ---
BUNDLE #1 – Cute mug + cozy slippers
BUNDLE #2 – Dyptique candle + journal
BUNDLE #3 – Meditation cushion + eye pillow
BUNDLE #4 – Water bottle with crystal + yoga mat
---
FOR THE BEAUTY OBSESSED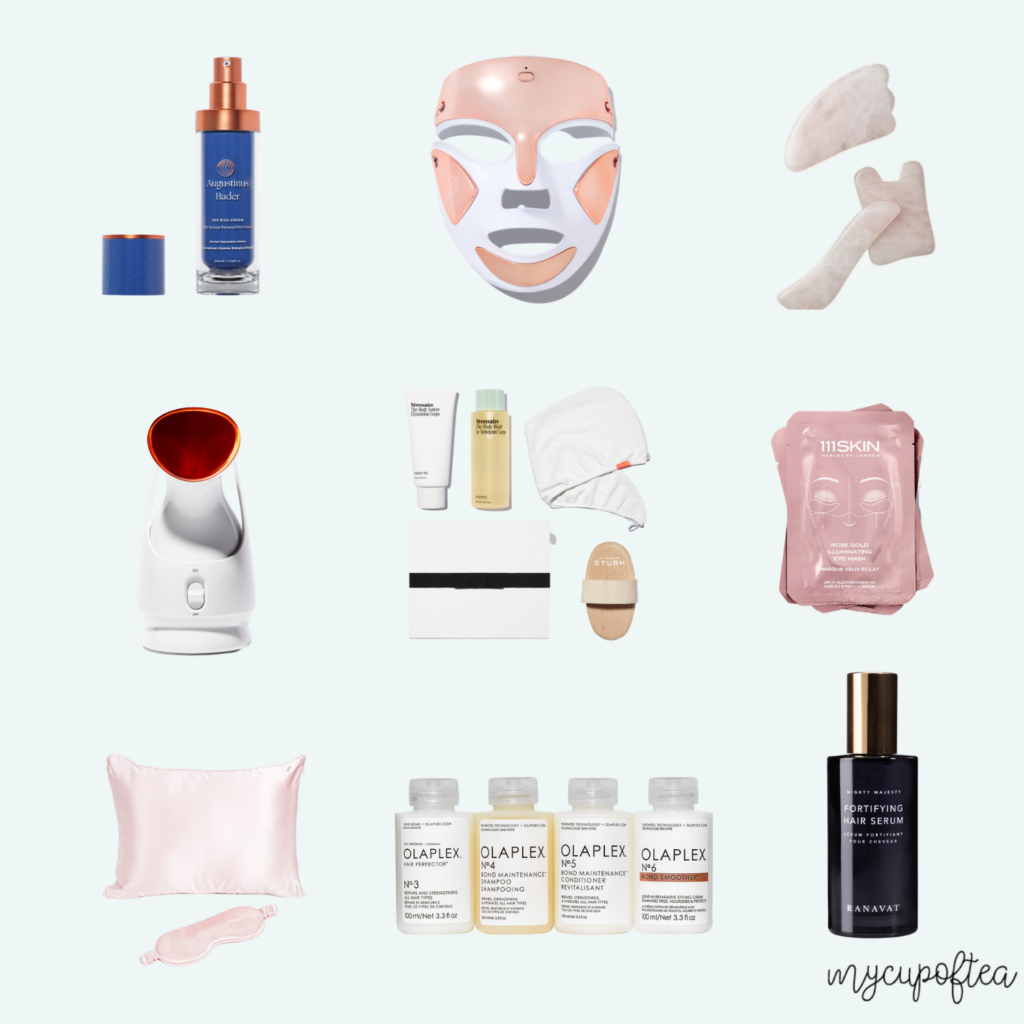 It's definitely an investment but one that gives great returns! It's good to know that it lasts for a few months. It's the perfect gift for yourself or for someone you really, really like.
DR. DENNIS GROSS DRX SPECTRALITE™ FACEWARE PRO
Speaking of investments… If you can't go to you regular facial, bring it home to you. This light therapy full-face mask combines the power of 100 LED lights. It's great for anti-aging, and zits. I bought it last year during a Black Friday sale and I am so glad I did. It's pricey but worth it, a good one for a group gift.
GUA SHA TRIOAn inexpensive alternative to firmer skin. I love Gua Sha, it truly makes a difference on your skin. It's a perfect gift for anyone who appreciates the beauty of self-care. If you want to upgrade this gift, add your favorite face oil. Mine are Kora Organics and Vintiner's Daugher.
DR. DENNIS GROSS PRO FACIAL STEAMER
This is one of my personal favorites. I love to have this at home and recreate a mini facial at home.
VIOLET GREY'S ULTIMATE ESSENTIAL SHOWER GIFT SET
It comes with natural bristle brush for dry brushing, Necessaire Body Wash (one of my favorite products- specially sandalwood) and Body Lotion, and a hair turban to dry and protect your mane. This gift set is so well curated as the other ones from Violet Grey. Check 'em out here.
111SKIN ROSE GOLD ILLUMINATING EYE MASK
I haven't tried these yet, but those who have, rave about them.
Yes, I always include this set on my gift guides but it's because it is a great product! It's pure silk, anti-aging, anti-crease, anti-bedhead. What else could you ask for?
If you know someone who really struggles with hair issues, this is a perfect gift for them. I've tried the Olaplex system and I really like it.
MIGHTY MAJESTY FORTIFYING HAIR SERUM
---
YOU CAN'T GO WRONG FOR WOMEN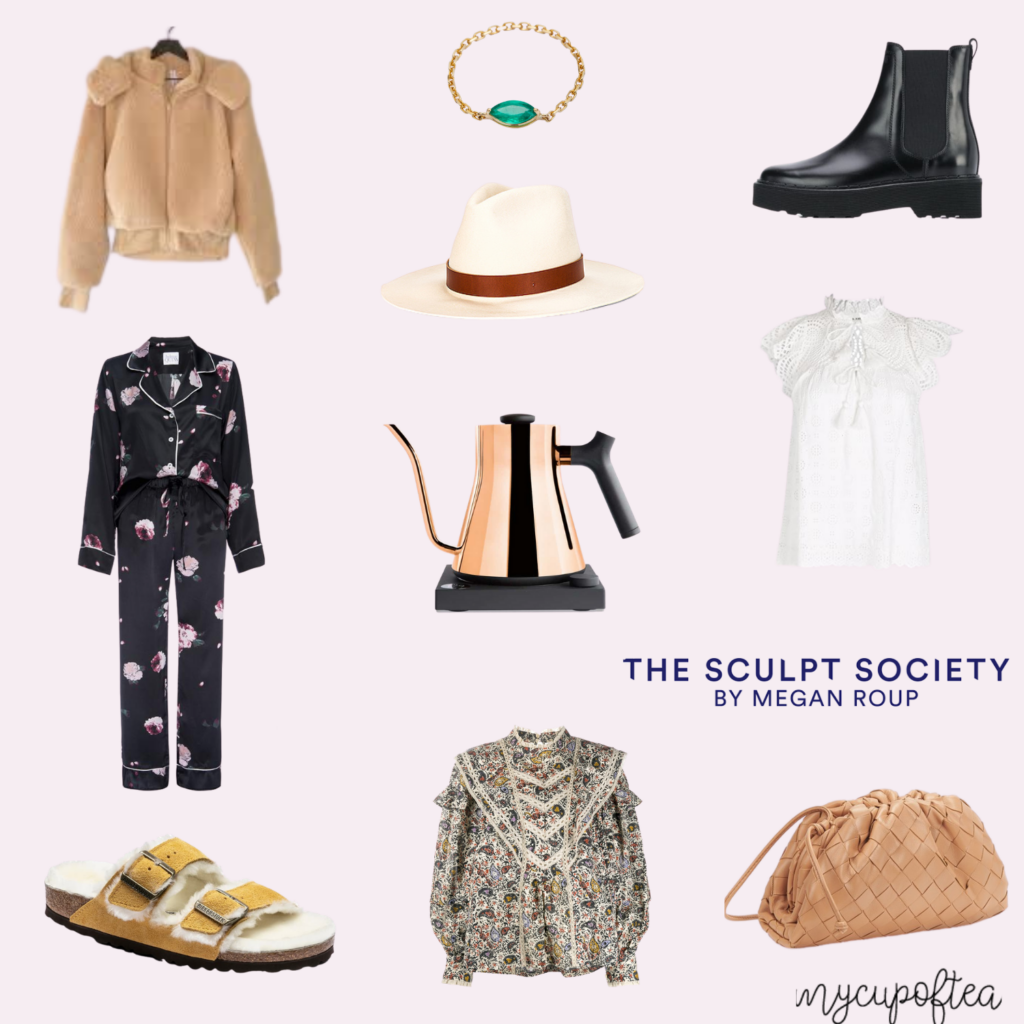 ---
It's on sale, so if you want it you better act fast. This jacket often sells out. Cozy, stylish, perfect for a relaxed look.
YI COLLECTION EMERALD CHAIN RING
So delicate and hip. This ring is on my wishlist. Plus, I like buying from Olivela.com because they price match your purchase and they make a donation to a cause. For instance, as stated on their website, this ring provides 7 chemotherapy care supplies for children, through St. Jude Children's Research Hospital. Shopping for a cause is my cup of tea.
Speaking of wishlists, these are first on mine! Chelsea boots are in style, and can be found at many price points. For super inexpensive ones click here, medium range click here, and the luxury are already linked for you above!
I loved this off-white Janessa Leoné fedora. It's made of wool and has a suede band which makes it perfect for fall and winter despite its color.
Buying a silk pajama set, it's the ultimate act of self-care. It's worth the splurge because you'll feel like a million dollars. If a husband or boyfriend is reading this, I think it's the best gift for your better half.
STAGG EKG ELECTRIC POUR OVER KETTLE
If you're thinking, what is this kettle doing here? In my defense, it's golden and pretty! Who wouldn't like to heat water for your cup of tea in this beauty?
This cute white top is the definition of "you can't go wrong with." Plus, it's on sale. You're welcome!
BIRKENSTOCK ARIZONA SHEARLING SANDAL
I've been living on these the whole pandemic. They're so, so comfy and kind of stylish (as I'm writing, I can almost hear my friend Barbara scoff in disagreement), but at least that's what I tell myself each time I wear them. There's a reason why they sold out frequently. If you can't find your size on the link above, try the black ones here.
ISABEL MARANT ETOILE REIGN TOP
I love a feminine ruffled top like this one. It comes in black pattern and solid white, too, which are super cute. Pair them with jeans, a leather skirt, and high boots.
ANNUAL MEMBERSHIP FOR THE SCULPT SOCIETY BY MEGAN ROUP
The gift that keeps on giving. I don't know about you, but workout apps have saved my sanity amid the quarantine. I've tried many (more on that in a later post), but Megan Roup's is my favorite. There are so many options, and I personally love her light energy. She's having a special for Black Friday, be sure to check it out. The annual membership is 99 dollars!
MINI LEATHER WOVEN POUCH CLUTCH CROSSBODY BAG
I am finishing up the Women's category with a luxury item. The "it" bags of the moment are Bottega Veneta. I love this woven pouch, and I think it's a good investment for it's timeless and you can dress it up or down. Plus, you can wear it as a crossbody and a clutch.
---
YOU CAN'T GO WRONG FOR MEN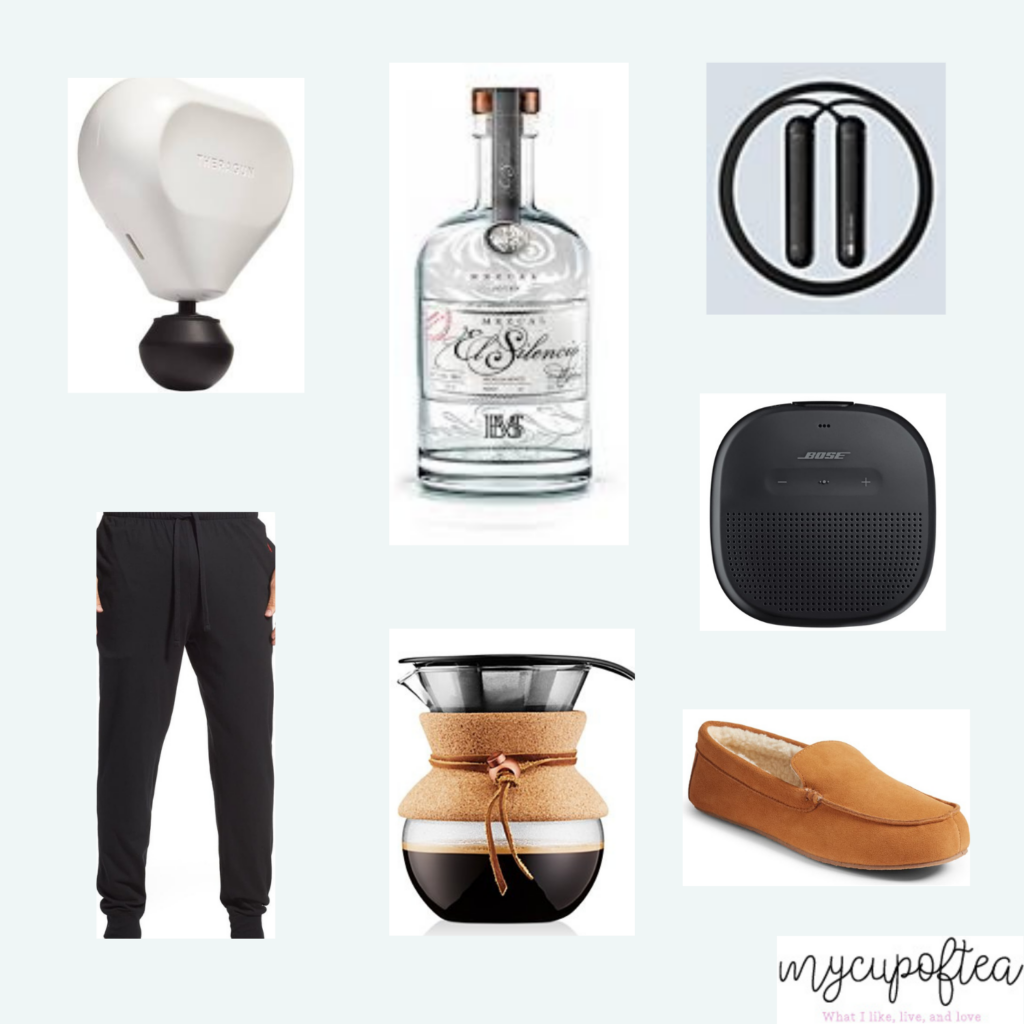 At home, we fight over it. The size and price point are perfect. I'm not sure that if we had the bigger version we would use it as often. It really helps releasing stress and healing stiff or sore muscles. For all the science go to their website. I really recommended it, and not only for men, it's a great gift for anyone.
A good bottle of mezcal like El Silencio makes a great gift. Whether by itself or paired with shot glasses will most certainly be a crowd pleaser. A great gift for a guy or for a couple. The bottle design is beautiful and will look amazing on anyone's bar cart.
I think this is a great gift for anyone, even teens. I think men would love it because it involves fitness, it's tech-y, and practical at the same time. Be sure to check out the size chart for different heights.
"I have too many sweatpants." said no man ever. Check out these other options. One, two, three, four.
You know I'm a tea lover, but even I can appreciate the smell of freshly made coffee. A practical, yet stylish gift. Pair it with a bag of your favorite coffee or a pair of bistro tile mugs.
BOSE SOUNDLINK® MICRO BLUETOOTH® SPEAKER
I gave one of these to my son last year, and he loves it. It is hanged by the showerhead of his bathroom, and it's something that he uses every day.
A safe (and a little boring) choice at first glance, but the truth is that a pair of cozy slippers will always be a good gift. It's something that you didn't know that you needed until you have them.
---
KIDS & TWEENS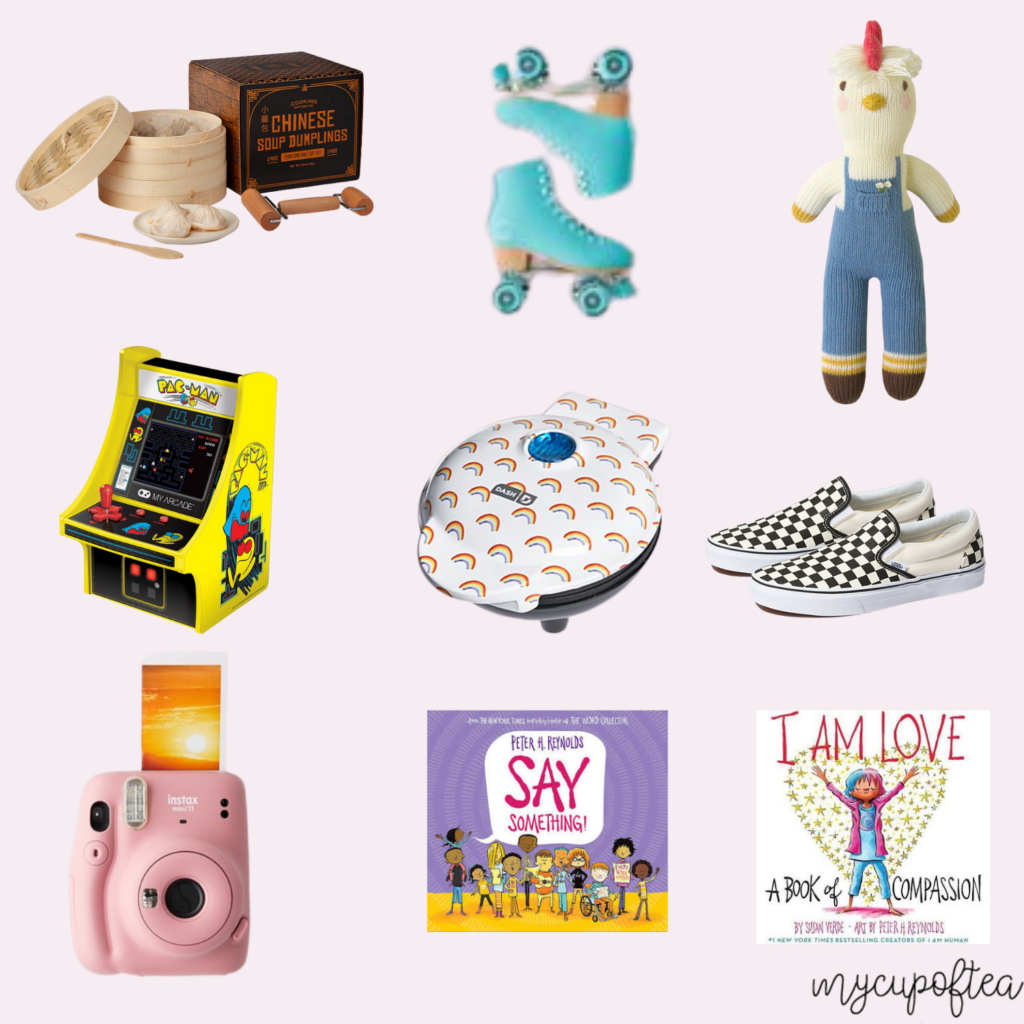 DIY kits are very popular for kids and parents alike. Kids love to make things, parents love to keep them off the screen and foster some independence, too. This DIY mochi kit caught my eye, too.
C7SKATES PREMIUM QUAD ROLLER SKATES
Again, getting kids off the screens is one of our purpose as parents and what better way than with this cute pair of skates?
I absolutely love Bla Bla Dolls. They're Roberta's favorite, she actually has a collection and this chicken is our favorite, we named him Cornbread.
MICRO PLAYER RETRO ARCADE – Pac-Man
I know I said that we want to get kids as faraway from screens, but doesn't this mini arcade brings back memories? It's not all black and white.
I've given this mini waffle maker to a lot of kids as a birthday present and they love it. I always pair it with a fun spatula or waffle mix. It is a crowd pleaser!
CLASSIC Slip-On™ CORE CLASSICS
For boys and girls of any age!
Another go-to gift for kids any age. Pair it up with film or a printer.
SAY SOMETHING BY PETER REYNOLDS
Or any book by Peter Reynolds! This particular one has an amazing message about using your voice and being of service. So timely.
I AM COLLECTION BY SUSAN VERDE
A collection of picture books about self-awareness. I Am Love, I Am Yoga, I Am Peace, I Am Human. All of them my cup of tea!
---
SUPPORT LOCAL & SMALL BUSINESSES IN LOS ANGELES
Supporting small local businesses is essential nowadays. That's why I decided to include this section on my gift guide. Remember that for some of these businesses buying gift cards is a great way to support them. Also, following them on social media makes a huge difference for them.
I am a big believer that supporting others creates ABUNDANCE for everyone.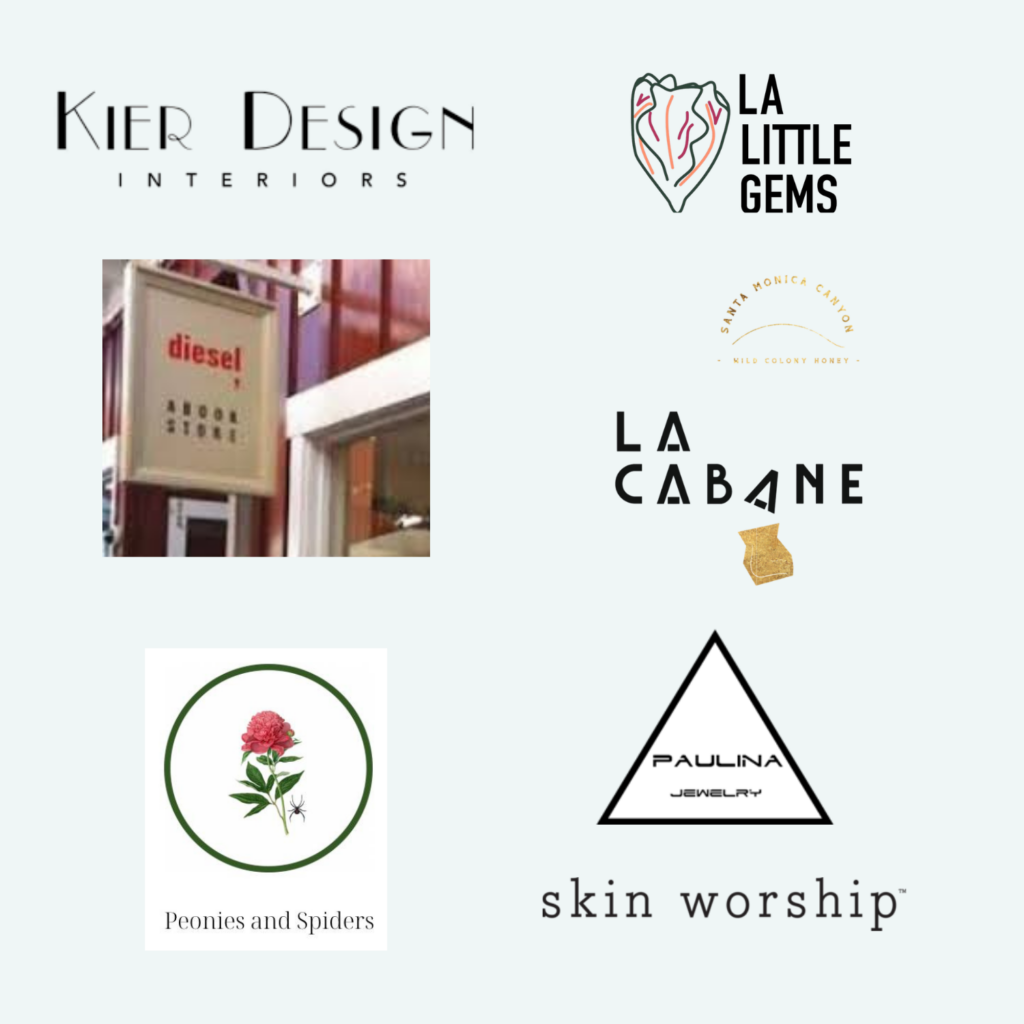 KIER DESIGN is a very cute design store in the Palisades. They have amazing customer service, and they have the best selection for your decor needs. Every time I go in, I end up buying something and it's dangerously close to my home. Their instagram is dreamy, too. @kierdesign
---
DIESEL BOOKSTORE at the Country Mart is one of my favorite spots in LA. As a writer, supporting independent bookstores is super important for me. Next time you want to order a book online from Amazon, think of Diesel and go there instead. You can call them for curbside pick up, too. A book will always be a good idea to give anyone!
---
LEAH AVIGDORI from Skinworship gives one the best facials in town. Her hands are magical. Every time I've been there, I come out floating and with the most glowing skin. Follow her on Instagram @leah.skinworship Not comfortable yet getting a facial? I get it, you can always get a gift card and save it for the future.
---
PEONIES & SPIDERS, is my friend Erika's new venture. She created the most gorgeous candles using antique china and vases. She also uses crystals. All of these my cup of tea. The perfect gift for someone who likes pretty things. Follow her on Instagram to shop @Peoniesandspiders
---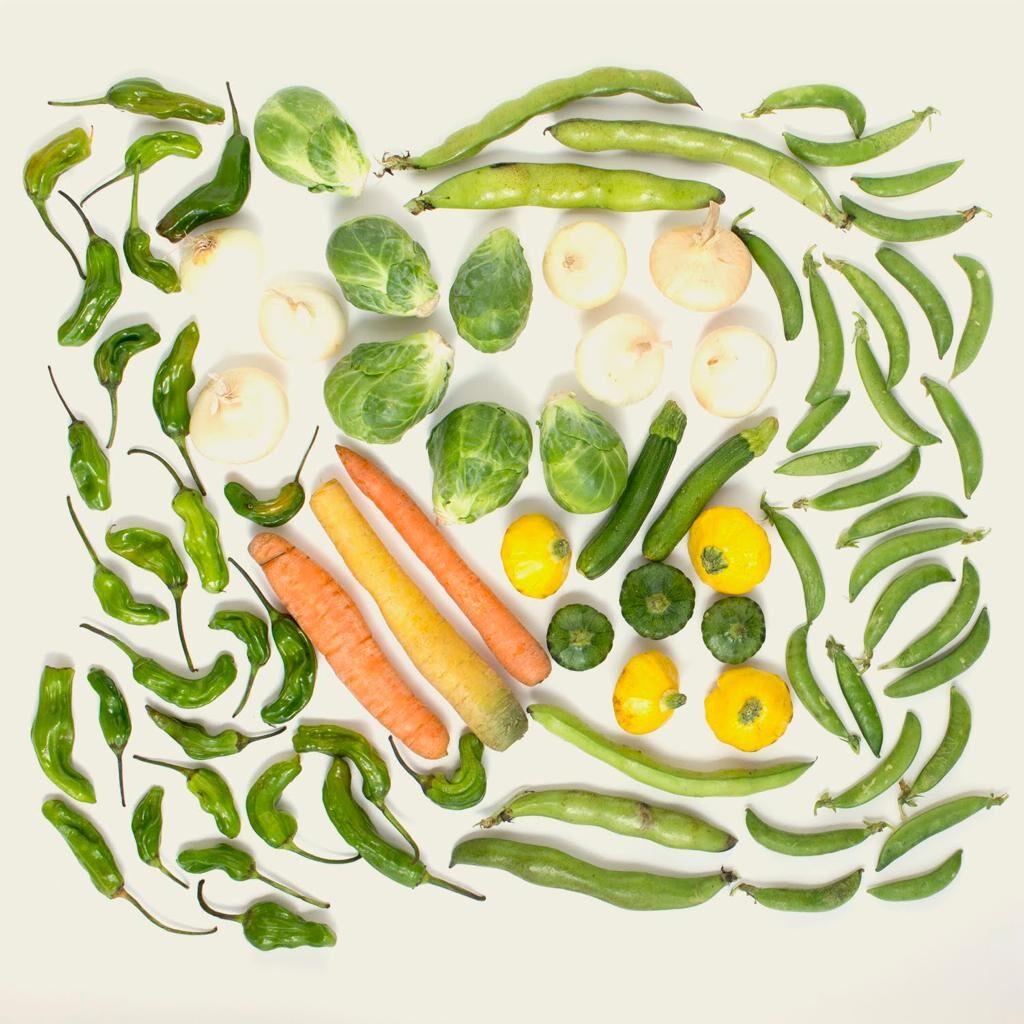 LA LITTLE GEMS, is another small business that serves a big purpose! It brings farmers market straight to your door. Why not give someone a box of produce and goodies?
---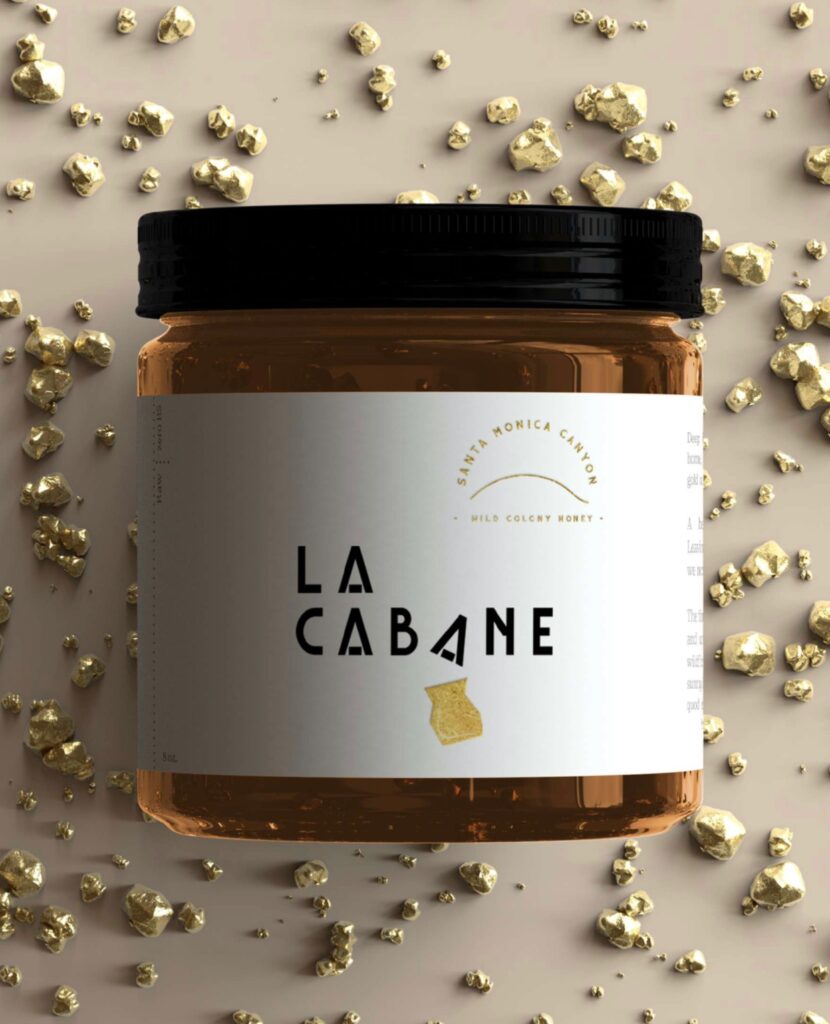 LA CABANE will be coming soon offering single origin specialty coffee and wild colony honey. I can't wait to try it but I already know it will be good. Support young entrepreneurs Louella and Conrad!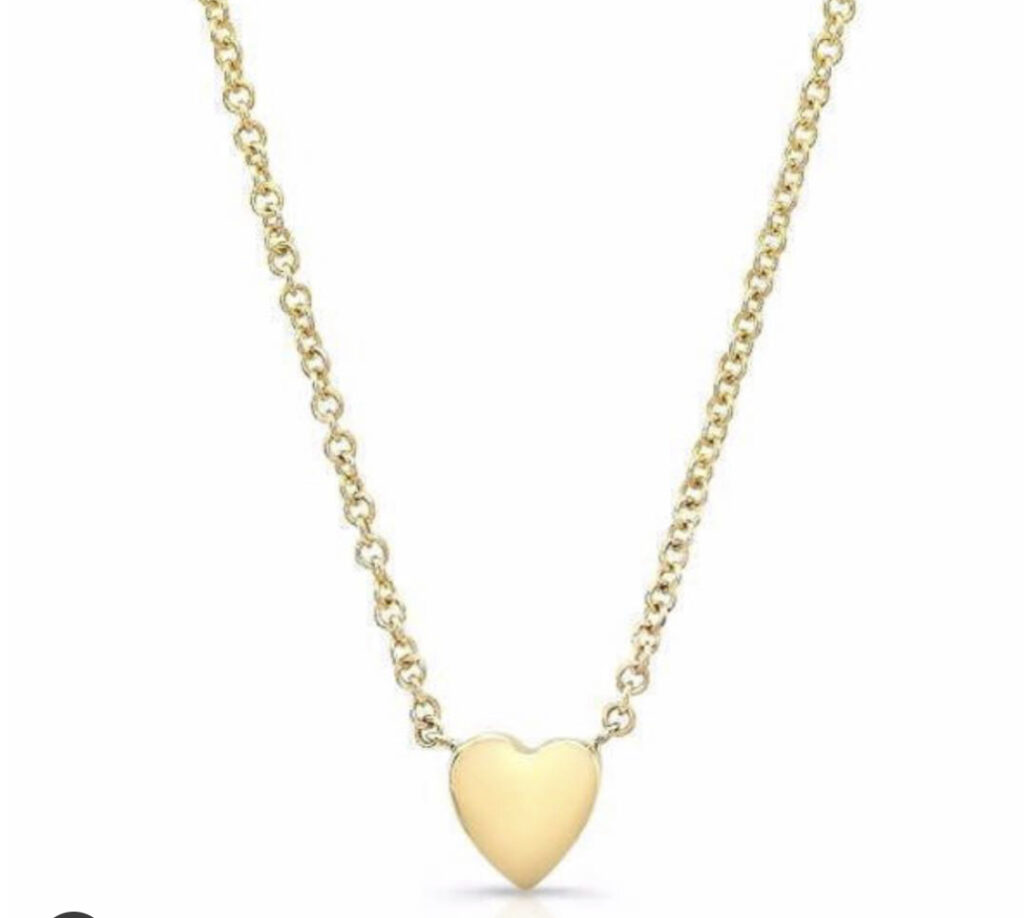 PAULINA JEWLERY is a personal favorite. I know from experience that she puts so much love in creating all of her pieces. This heart necklace is my favorite.
---
I really hope you enjoyed this gift guide. Happy holidays! I really wish whatever are your circumstances, that you find moments to find gratitude, peace, and happiness.
Please know that I am grateful for you.
Much love,
Marcela