15 Books for 2017: Turn Your Intentions into Your Lifestyle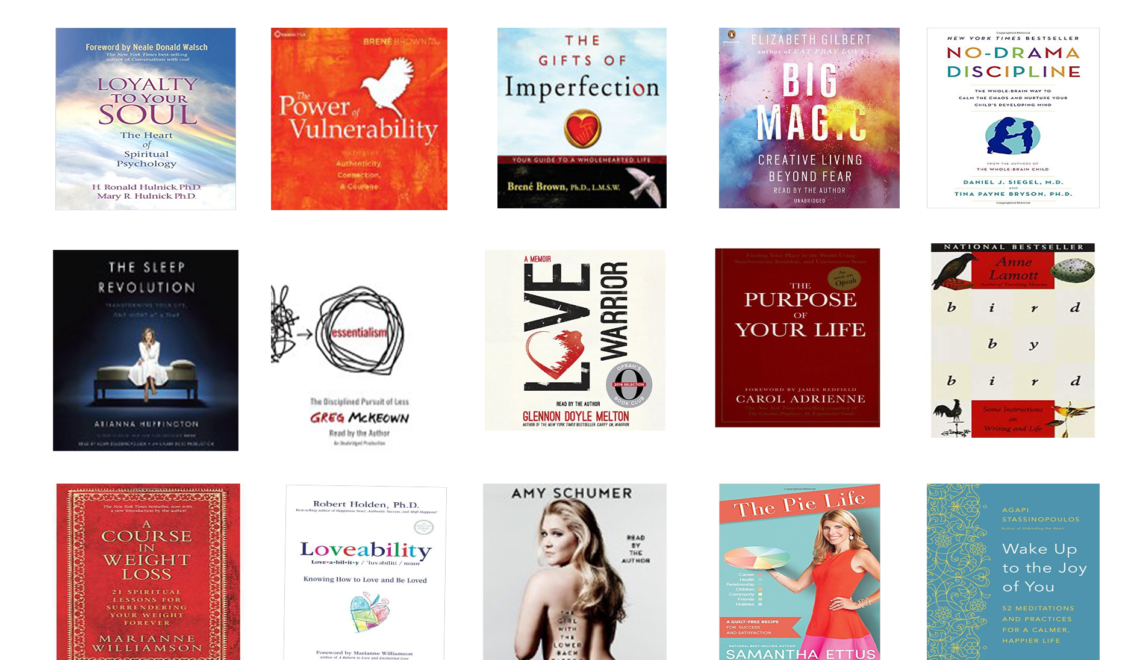 Happy New Year!
Cheers to you that are reading this right now, I hope you started off with the right foot and, if not, not to worry, you still have 354 days ahead.
Last year, was one of many personal challenges for me. I was ready for it to end. As my Dad texted me on New Year's Eve:  "there are some years that we just want to fast forward.", I thought 2016 was one of those for sure. Looking back, it was a very challenging year but also rewarding in many ways. I started this blog; I finished a Certificate in Spiritual Psychology; my best friends came to visit me, plus I got published for the first time! So I guess it's not fast-forward-worthy, after all. The challenges were there, and they made me grow; I wouldn't fast-forward that either.
One of the practices that have helped me a lot is to listen to audiobooks during my daily commutes.  I figured that one could only listen to the same Adele song 1000 times per day, so I rather enjoy the benefits of listening to soul-feeding materials instead of turning the radio on. These books have been my companions and my teachers. They have chosen me at the right time, as books always do. I've enjoyed the way their authors narrate them with so much passion that I feel that it is a way for them to remember why they wrote the book in the first place.
I've compiled a list of 15 books (most of them have their audio versions) that will help you set your intentions for the New Year. Note that I am not talking about resolutions, I am speaking about intentions which are more powerful and sustainable. It is different to say: "I will go to the gym 5 times a week", rather than: "My intention is to have a healthier body." The latter is not static, is doable, it's flexible, and you're not setting yourself to failure. See the difference? Think about how you want 2017 to look like. What do you want more of? Where do you want to go? What do you want to accomplish? What are you missing? What do you want to keep? What do you want to let go?
So let's get matters into business: complete this sentence and search below: In 2017 my intention is to_________.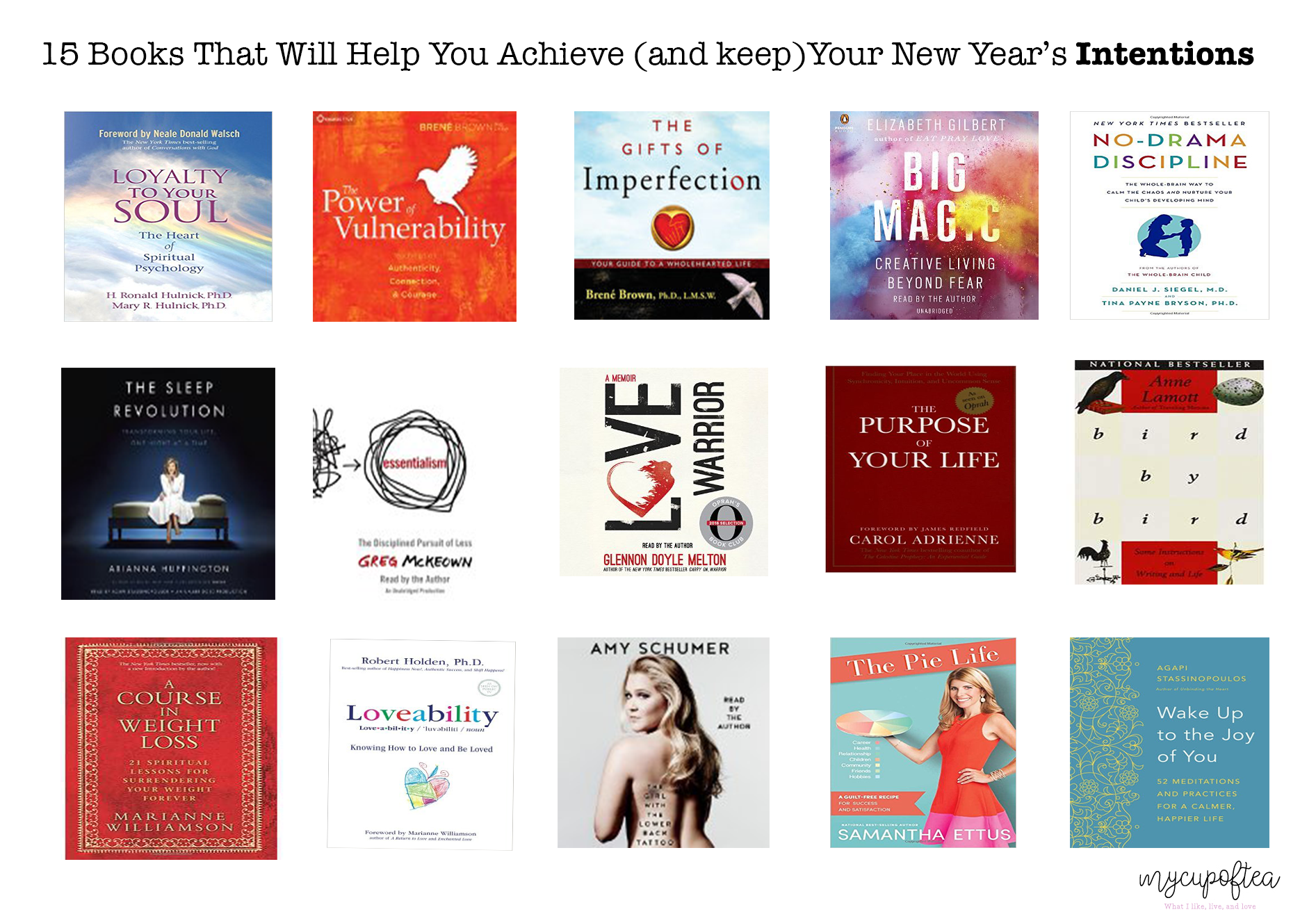 Psst! By the way, you can shop all of these books at my Amazon store by clicking here.
1. Grow Spiritually
Loyalty to Your Soul: The Heart of Spiritual Psychology, H. Ronald Hulnick Ph.D., and Mary R. Hulnick Ph.D.
What I learned: To see issues or problems as opportunities for growth. To gain more awareness to see how I am relating to myself while an issue or problem occurs because that's the issue in the first place! That and a lot more, but no spoilers. Read it. There is no audio version for this one, but it is worth reading every word.
2. and 3. Give up shame and perfectionism, and trade it for vulnerability and wholeheartedness  
The Power of Vulnerability: Teachings on Authenticity, Connection and Courage, Brene Brown
The Gifts of Imperfection: Let Go of Who You Think You're Supposed to Be and Embrace Who You Are, Brene Brown
What I learned: How whole-hearted people live and that I want to become one. I learned to let go -or at least I'm trying to – that false image of perfectionism. These two audiobooks taught me about authenticity, vulnerability, and belonging. Watch her TED talk too.
4. Connect with my Creativity 
Big Magic: Creative Living Beyond Fear, Elizabeth Gilbert
What I learned: Instead of telling you what I learned, please read her letter addressed to Fear below. If you are feeling stuck, or you are amid of a creative crisis, this is the book for you. We are always told to let go of our fears, but why don't we let the fear be our friend instead?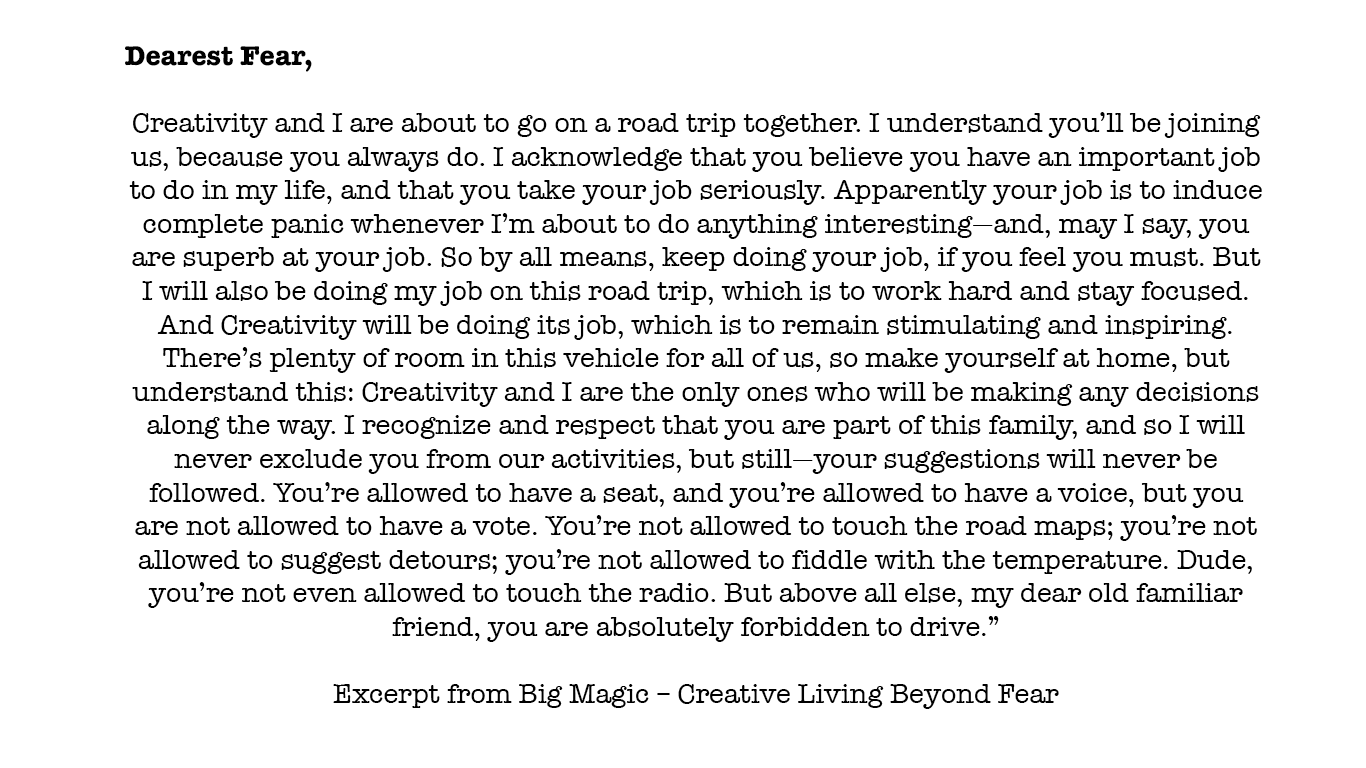 5. Be a better parent 
No-Drama Discipline: The Whole-Brain Way to Calm the Chaos and Nurture Your Child's Developing Mind, Daniel J. Siegel and Tina Payne Bryson
What I learned: If writers had groupies, I would definitely be Daniel Siegel's. I love all his work and his approach to human relationships. In this book, you will find many strategies to relate better and communicate with your child. You will also understand how the brain of your little ones works and with that, you will be able to lovingly set boundaries and teach your child to calm down (without yelling).
6. Change your sleeping habits 
The Sleep Revolution: Transforming Your Life, One Night at a Time, Arianna Huffington
What I learned: The importance of sleep. To be honest, I need a lot to work on this matter. I haven't been able to change my (bad) habits completely. To be fair, at least now I know the consequences of not getting enough sleep aren't just feeling groggy and in a bad mood the next day. It is much, much more than that.
7. Do less, but obtain more (and live happier)
Essentialism: The Disciplined Pursuit of Less, Greg McKwon
What I learned: That you can declutter your life the same way that you do with your closet. You can depurate your life by learning to say no, by setting boundaries, by understanding trade-offs, by doing only what's essential. Since I listened to this book, whenever I need to decide something  I always ask myself this question: what problem do I want to solve? There is always a choice! To know that there is always a choice and to know what is your priority are two powerful tools for life.
8. Be inspired by a self-discovery journey
Love Warrior, Glennon Doyle Melton
What I learned: When I listened to this memoir, it was the first time in my life that I wished I hit traffic: I wanted to keep on listening! It is a raw, honest, and vulnerable story that every woman can relate to at some point. It is told in a way that while you're reading/listening to you feel that you're having an intimate conversation with a close friend over tea (ok, or over coffee).
9. Find your life's purpose 
The Purpose of Your Life,  Carol Adrienne
What I learned: A life-changing book. There are no coincidences, no accidents. I learned that my life purpose is bigger than just a job title, it goes beyond that. I learned a lot about myself and about my life purpose which I'm still finding out and defining.
11. Loose weight mindfully (from your body and your soul)
A Course in Weight Loss, Marianne Williamson
What I learned: There is more than just bad habits when you are not comfortable with your body or you are not at a healthy weight. I learned to explore the reasons of those extra pounds beyond my diet.
 12. To love and be loved
Loveability: Knowing How to Love and Be Loved, Robert Holden
What I learned: To be honest, it was hard for me to get through the first pages, but once I got through them, I really liked it and got a lot of it. In the end, everything is about love. Everything comes from love, but you have to love yourself first, and this may sound like a cliché, but once you understand how does self-love look like, and you try to live by this principle you will notice the change. If you want to find love or to love someone, you have to love everyone. Yes. Everyone (still working on that).
13. Laugh out loud
The Girl with the Lower Back Tattoo, Amy Schumer
What I learned: That my life is pretty boring compared with Amy Schumer's. Talking about an authentic person! What a gift this woman has to tell stories that will make you laugh out loud or wet your eyes! It felt as if I had an intimate conversation with a friend over wine, lots and lots of wine (ok, fine. Vodka). I also learned that hard work and never giving up your dreams, pays off, so does staying true to yourself and not caring about what other people think or expect from you. She is a great example for that. I absolutely loved this book for its boldness, uniqueness, and authenticity. It won't change your life, but it is a good read.
14. Find work-life balance
The Pie Life: A Guilt-Free Recipe For Success and Satisfaction, Samantha Ettus
What I learned: I learned (or I am learning) to treat my blog as if I were hired by someone else, as a real job. I have a very flexible and disorganized boss, so I need to make changes and restructure that area. Maybe hire another version of myself, a more organized one. With real-life examples, you will find many, many tips and small changes that you can make every day in your life that will make huge differences to accomplish a balanced life. Let me rephrase that: a guilt-free balanced life.  If you are a practical person, this is a book for you.
15. Meditate and let 2017 be your year
Wake Up to the Joy of You: 52 Meditations and Practices for a Calmer, Happier Life, Agapi Stassinopoulos
What I learned: Truth to be told, I haven't started listening yet because I just download since it was just released! But 52 meditations and practices to lead a happier life? I am all in!
I hope you enjoy this list. Remember, like in every book I took just what resonated with me and I left out -without any judgments- what it didn't.
So, let me ask you again: how do you want 2017 to look like? What do you want more of? What are you ready to let go?
I am hopeful about 2017, but I am not letting it all to chance. I will shout to the Universe my intentions. I will work on them. I will work with them. Below, I share with you the vision board I made. That is how I want my year to look like, and I highly recommend you to do one (what did I learned about making it? That you are never too old to enjoy cutting and pasting: THERAPEUTIC!).
Wishing you a happy, healthy, and full of love 2017!
♥

,
Marcela